Food habits of every family has to be monitored by the member of the family who arranges food for the family!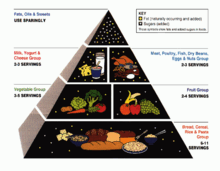 In our  hectic life, we often neglect the nutrient aspect of food and never realize that whatever we are eating is  good or bad for our health.. I came across an interesting concept, food pyramid  about which I want to share with my readers
Food pyramid is a must thing in every kitchen. It's a visual tool which is designed to help users to make their dietary choice and how to moderate their choices.
Start by making a poster of the pyramid by using photographs of various foods from different magazines and hang it on your refrigerator.
The tip of the pyramid is for food which we should eat sparingly like fats, oil and sweets.
Protein-rich food is the next category. That can include meat, poultry, fish, beans, and nuts group. As well as milk, yogurt and cheese group. Then comes the fruits and vegetables, you can think lots of variety in this section. The base of the pyramid includes bread, pasta, cereal and rice.
Food pyramid can be used in several ways. You can have different pyramids for all members of the family. You can decide few days of the week as healthy eating days and can follow pyramid food. You can discuss about different categories of food with your kids and tell them about its importance.So check out who is the healthiest eater of your family!