Womenlines is an online magazine promoting excellence in people to be the best version of self. It is listed in top 40 women's online magazines to follow in 2020.
Womenlines is grateful to various international platforms for inviting Charu Mehrotra, founder of Womenlines as a speaker and also to certain platforms for the virtual felicitation in various programs.
https://www.whatwomenwantworkshops.com/summit-webinars
https://www.entrepreneurs.asia/speakers/charu-mehrotra/
Are you looking out for physical health, leadership skills, mindset health and image branding strengthening tools to be the best version of yourself? Subscribe to weekly powerful updates of Womenlines for free. Click https://18.140.181.33!
Promoting Diversity and Inclusion The Female Founders Competition offers a remarkable platform to champion diversity and inclusion in the startup world. This competition is exclusively for startups with a minimum of 50% female founders, celebrating their entrepreneurial spirit. By spotlighting outstanding entrepreneurs and their innovative startup ideas, this competition contributes to building a balanced and harmonious startup ecosystem.
Empowering Diverse Startups Our belief is in empowering founders to drive change and make a lasting impact. The Female Founders Competition provides an opportunity to celebrate the unique ideas of startup founders, raising awareness about their groundbreaking concepts reshaping various industries. Through this initiative, we aim to foster a more equitable and inclusive startup ecosystem.
Supporting Diverse Impact Entrepreneurs
We are committed to supporting diverse impact entrepreneurs on their journey to success. The Female Founders Competition offers a platform to showcase innovative ideas while providing founders with the necessary resources to propel their visions forward. We also promote diverse startup partnerships, allowing founders to complement each other's strengths and weaknesses, enhancing resourcefulness in the face of adversity.
Don't merely dream; take action! Join the Female Founders Competition today and transform your innovative startup ideas into thriving businesses. Embrace diversity, celebrate inclusion, and let your startup shine in the entrepreneurial spotlight. Register now and be the change you wish to see in the startup ecosystem!
Timeline & Schedule
Registration Opens: 1st Sep 2023, Fri
Registration Closes: 14th Oct 2023, Sat
Mentoring + Q&A Sessions: 3rd & 10 Oct 2023, Tue, 8 pm – 10 pm
Judging Period: 14 Oct 2023, Sat
Final Selection of Pitches: 20 Oct 2023, Fri
Announcement of Finalists: 21 & 22 Oct 2023 (Sat & Sun)
SEA Finals: 28th Oct 2023, Sat
Why Apply?
Gain Visibility: Promote women's participation in business and create gender balance.
Increase Chances: The top winner from the Female Founders Competition SEA may proceed to the Women Startup Competition Europe's Final Demo Day.
Collaborative Learning: Benefit from shared questions and answers with fellow attendees.
Presentation Skills: Improve your presentation and pitching skills with expert insights.
Who can apply
Applicants must meet two requirements:
Female Leadership: The startup must be led by a female CEO or founded/co-founded by females, with at least 50% women in the entrepreneurial team, from South East Asia Countries (SEA).
Startup Phase: The startup should be at least at the MVP phase or very close to launching, with something tangible to showcase.
The process
Online Application
Online Selection for the Female Founders Competition SEA (Semifinals)
Online Mini-Bootcamp (Speed Rapid Mentoring)
Pitching at the Female Founders Competition (Top semi-final winner advances to Women Startup Competition Europe)
Finals Selection
Pitching at WSC Demo Day – Winner Election
Long-term Follow-up: Focusing on traction generation and international expansion
Partnerships for a Greater Purpose
Gender diversity is the key to a better world, and partnerships are the driving force behind our success. FFC (Female Founders Catalyst) plays a pivotal role in empowering female-founded and diverse startups during their vulnerable early stages, offering crucial seed investments. We operate as an independent non-profit organization, providing unwavering support to female founders without any charges. Partnerships are instrumental in enabling us to create the transformative change we aspire to achieve.
For more information on partnership opportunities, please contact us at empowerbizsg@gmail.com.
Corporate Partnerships Driving Social Good and Corporate Innovation
By sponsoring our programs, your organization not only contributes to social good but also gains an exceptional opportunity to connect with some of the most promising early-stage female founders within your industry. Each year, we engage with approximately 300 female-founded or female-led teams spanning various industries and verticals, including software, AI, biotech/health, sustainability, ed tech, beauty, fashion, media, and more.
Media Partnerships Gender Diversity: A Global Imperative
Gender diversity isn't solely a women's issue; it's a matter of global interest. Visibility, addressing unconscious bias, showcasing positive role models, and encouraging more women to embark on entrepreneurial journeys are all critical components of effecting social change. Join hands with us to bring this vital topic to the forefront of discussions!
EmpowerBiz Global: Connect, Grow, and Empower Your Business Today!
Visit us at EmpowerBizSG!
Join us at the EmpowerBiz Singapore Interactive Networking Experience to discover a vibrant community of business professionals, entrepreneurs, and like-minded individuals eager to achieve growth and success. We offer valuable connections within a dynamic business network, alongside workshops and events that will help you establish a robust business foundation. Dive into our empowering community and cultivate meaningful connections today!
Co-Founders of EmpowerBiz Global: Andrea Zsapka & Kenneth Choo "Empowering Business Owners Without Labels and Including All Parties in the Conversation" At EmpowerBiz Global, we are committed to breaking down barriers and fostering inclusivity. With Kenneth Choo, an Asian man, and Andrea Zsapka, a European woman, leading this venture, our diverse team has united to create something extraordinary. We aim to provide business owners with access to essential resources for business growth while nurturing a safe space for networking among peers. Our mission is simple: ensure equal access to opportunities and support, enabling everyone to achieve their goals and become successful entrepreneurs. Join us today and contribute to building a better tomorrow! Together, we will make a difference – let's EmpowerBiz Global!
Connect with us on LinkedIn:
Enhance data security to prevent unauthorized parties from committing identity theft or accessing proprietary information. Learn three ways your business can protect sensitive data.
Data Security Tips
Large and small businesses collect customer data that hackers and identity thieves want to steal. While companies store ample data in encrypted digital records, physical records also require protection.
Develop a comprehensive approach to safeguarding sensitive information. Discover three ways businesses can protect sensitive data.
Implement a Cybersecurity Strategy
A cybersecurity strategy outlines how to keep data secure and what to do if an unauthorized party gains access to confidential information. The plan clarifies team members' roles and responsibilities and facilitates fast responses to security breaches.
Broad Steps for Creating Your Strategy
Start your strategy creation by understanding the threats against your business and identifying your vulnerabilities. Then, employ cybersecurity tools and software, including firewalls and anti-virus software.
Protect and manage sensitive data with access controls and tools that store and transfer data securely. Regularly monitor, review, and update your security measures to stay ahead of bad actors.
Strategically Secure Physical Data
Physical data includes hard drives, CDs, and paper documents. These forms can contain private information such as financial records, business data, and customer information.
Storing Physical Data
Store physical documents in secure filing cabinets, safes, or storage rooms that unauthorized personnel cannot access. Regularly audit physical data holdings to know where items are stored, who has access, and whether there are potential security gaps.
Disposing of Physical Data
You must irreversibly destroy physical data so that perpetrators cannot extract information. You may choose to hire a company to dispose of your records or destroy your records in-house. One of the most common reasons businesses need industrial shredders is to save time and money disposing of paper and digital storage components, such as hard drives.
Train Employees on Data Security
Employee training is an essential way businesses protect sensitive data. Training will provide staff with the knowledge and tools they need to recognize and prevent security threats.
The standardized training program can instruct employees on the following topics:
Physical security: Using, storing, and disposing of physical documents.
Password security: Creating strong, unique passwords for each account.
Scams: Phishing emails, suspicious links, and other scams to be aware of.
Malware: What it is and how to protect against it.
Retrain employees regularly to ensure they understand, remember, and follow your business's security standards. Online training programs make it easy to deploy trainings at predetermined intervals.
Implement digital and physical data security strategies, then train and retrain employees on security standards. Taking these steps reduces data breaches and protects your business and customers.
As a manager, overseeing both your home and a team of employees, here are some essential tips for managers on balancing home life and remote work to minimize stress.
Working from home as a manager spawns stress and mental fatigue that you never knew was possible. You're constantly working to be the best at work and at home. It feels nearly impossible to accommodate both responsibilities.
Tips for Managers
All you need is a little advice and determination to get you through this tough time. Read the following tips to balance home life and remote work as a manager to alleviate the strain you feel each day.
Only Conduct Chores During Breaks
You see dirty dishes piled up in the sink, clothes littering the bathroom floor, and a kitchen table cluttered with disorganized papers. Your mind is telling you that the items need cleaning up right this moment.
Remember that you're not hanging out at home for the day. You're in charge of other employees who need help, and you have projects you must complete yourself. For the time being, your job is the priority.
If the messes are weighing heavily on your mind, use a bit of time on your breaks to clean up. Your break is the perfect time to make personal phone calls, watch a bit of TV, and even conduct household chores. After your break, you can return to work feeling relieved.
Create Clear Expectations for Your Team
The inbox messages never stop. Even when break times arise, it feels like you can never leave your desk. While it's your job to answer inquiries, you hardly have time to get your work done or take necessary breaks.
A way to better your productivity at home is to establish clear expectations for the team. Send a document answering their frequently asked questions, any additional information they should know, and best practices for their respective roles. The team's persistent questions will decline, and you will have more time to focus on balancing home life and remote work as a manager.
Avoid Scheduling Several Meetings in One Day
Meetings can build up just as questions do. Even after you finish working for the day, you're thinking about the next meeting and all the work you haven't completed yet. It's possible to feel burnout from too many virtual meetings. The constant stress of communication can take a toll.
Try to arrange your schedule to allow one to two meetings a day. To give yourself time to unwind after a meeting, place your status as "Do Not Disturb." After all, you deserve a breather after each hectic call.
Ask for Assistance From Your Family and Work Team
Perhaps other family members can help with chores or scheduling the kids' doctor appointments. Maybe you can assign an employee to oversee aspects of work to take a weight off your shoulders.
Just as you serve as a resource for the team, they're a resource for you. Be honest if you feel overwhelmed or are enduring other hardships. Employees will gain respect for a leader who can effectively communicate their emotions.
The same logic applies to your family. A busy work and home life can be hectic. Your family should be there to support you in every aspect of life. Don't be afraid to ask for help along the way.
Seek Help With Leadership Coaching
If you find yourself struggling more than usual, perhaps guidance from a leadership coach will benefit your work, your home life, and your team. Consider a few helpful questions to ask a leadership coach during the meeting. The coach's incredible insight will teach you how you can improve your managerial skills and balance your work and home life.
Do you know what it means when your business is getting a bit too big for just your own hands, especially when it comes to New Employee Onboarding? You've done an amazing job!
So now's the time to roll with the momentum and get some employees in to help out. Each person can bring their own unique skill set and wealth of experience to the role, and you'll hit your goals faster than ever before once you've built a team. 
But it's only natural to be concerned that you won't rub along well with new hires. After all, this business was born and built by you – it's hard to hand off an element of control. And that's why it's key to ensure the hiring transition goes as smoothly as possible. 
Run an All-Inclusive Training Program for New Employee Onboarding
To help them settle in fast, don't leave a new employee to figure things out alone. All inclusive means writing out instructions regarding both technical and cultural aspects of their new job. You need to set the rules when it comes to the workplace setting, as well as provide a manual for an employee's daily tasks. And the more detail you provide, the easier the whole transition will end up being. 
Don't Limit Communication to the Office
If you're going to bring employees into your enterprise, you need to brush up on your communication skills. After all, you need to stay in touch both in and outside of the office. To set this expectation from the moment you hire someone, add them to an office group chat, or if you're remote working regularly, use a Field Service CRM. This way you can track hours, check availability, and keep an eye on project progress all at once. 
But above all, there's no need for second-guessing yourself here. If you notice a problem, or you just want to check in and see how a new employee is doing, just send a message and ask how they're doing. 
Allow Initiative, But Give Direction as Well
It's good to let an employee lead the way with their own ideas. It sets them up for success early on and gives them the chance to showcase what they're truly capable of. In terms of impressing the boss, this is putting the best foot forward! 
But don't leave it all up to them. Just like the training we mentioned above, ensure you have a strong sense of direction for them to follow. They need to know the basic ins and outs, be given some time to get used to that, and be provided with an opportunity to flourish based on their own understanding and skill. 
Set them tasks and give them deadlines, but open up the floor to their ideas as well, no matter how big or small. It can help you and your team to rub along well together. 
Expanding a business requires some extra hands on deck. But if you're worried about hiring for the first time, use tips like these to help. 
Ladies, picture this: Self-care for women is the magic elixir that transforms groggy mornings into empowered days of boundless energy and purpose!
For women, self-care is especially important. We juggle so many different roles, from caregiver to professional to friend and partner. It's easy to put ourselves last, but when we do, our health and well-being suffer. That's why it's essential for women to make self-care a priority. When we take care of ourselves, we're better able to care for others and live our best lives.
Why is self-care for Women Important?
Self-care is anything you do to take care of your physical, mental, and emotional health. It can be as simple as taking a few minutes each day to breathe deeply and relax, or as involved as scheduling a regular massage or therapy session.
There is no one-size-fits-all approach to self-care. The most important thing is to find activities that you enjoy and that make you feel good. Women are more likely than men to experience stress, anxiety, and depression. They're also more likely to be caregivers, which can add to their stress levels.
Self-care can help women to manage stress, improve their mood, and boost their energy levels. It can also help to prevent chronic diseases such as heart disease, stroke, and diabetes.
Latest tips for taking self-care:
Here are a few latest tips for taking self-care:
Get enough sleep. Most adults need around 7-8 hours of sleep per night. When you're well-rested, you're better able to cope with stress and make healthy choices.
Eat a healthy diet. Eating nutritious foods gives your body the energy it needs to function properly. It also helps to improve your mood and overall well-being.
Exercise regularly. Exercise is a great way to reduce stress, improve your mood, and boost your energy levels. Aim for at least 30 minutes of moderate-intensity exercise most days of the week.
Spend time in nature. Being in nature has been shown to have a number of health benefits, including reducing stress, improving mood, and boosting creativity. Make time to get outside each day, even if it's just for a few minutes.
Connect with loved ones. Spending time with people you care about can help to reduce stress, improve your mood, and boost your overall well-being. Make time for social activities each week, even if it's just a quick phone call with a friend.
Say no. It's okay to say no to requests from others, especially if you're feeling overwhelmed. It's important to set boundaries and take care of yourself.
Take breaks. It's important to take breaks throughout the day, even if it's just for a few minutes. Get up and move around, or step outside for some fresh air.
Do something you enjoy. Make time for activities that you enjoy and that make you feel good. This could be reading, listening to music, spending time in nature, or anything else that you find relaxing and enjoyable.
Conclusion:
Self-care is essential for women's health and well-being. By making self-care a priority, women can improve their physical and mental health, reduce stress, and boost their energy levels.
If you're struggling to make self-care a priority, start by setting small goals. For example, commit to taking a 10-minute walk each day or reading for 15 minutes before bed. Once you've established a routine, you can gradually add more self-care activities to your day.
Remember, self-care is not selfish. It's essential for your own health and well-being, and it allows you to be your best self for others.
Additional tips:
Use technology to your advantage. There are a number of apps and devices that can help you to track your progress and stay motivated with your self-care goals.
Find a self-care buddy. Having someone to support you on your journey can make a big difference. Find a friend or family member who is also interested in self-care, and hold each other accountable.
Don't be afraid to ask for help. If you're struggling to manage stress or cope with your emotions, talk to a therapist or counselor. They can teach you coping skills and help you to develop a self-care plan that works for you.
Self-care is a journey, not a destination. It takes time and effort to make self-care a priority
Also read: Five Tips To Help You Focus On Selfcare
Single Women Ownership Journey
The journey to homeownership can be an exhilarating, yet often overwhelming, experience. This is especially true for single women who may face unique financial and societal challenges. In this guide, courtesy of Womenlines, we aim to equip you with the tools and knowledge to tackle each step of the homebuying process with confidence. Our objective is to help you make decisions that are not only financially sound but also in harmony with your lifestyle and long-term goals.
Assessing Your Affordability
Calculate your homebuying budget based on factors like your annual income, available down payment, monthly expenditures, loan type, and current average APR. Speak to a financial advisor or use an online calculator to help you assess what you can afford. This step ensures you're shopping within a realistic price range.
Leveraging a Skilled Real Estate Partner
Enlist the services of a skilled agent who can provide valuable insights, negotiate on your behalf, navigate the challenges you may face as a single woman, and ensure your best interests are represented throughout the transaction. They can help you find homes that align with your criteria, making the search process more efficient. Their expertise eases the process and boosts your confidence.
Research Your Desired Neighborhood(s)
Before taking the plunge, get to know your desired area intimately. Research real estate market trends, neighborhood safety, and upcoming development plans. Review local amenities, schools, and community events as well. Armed with this knowledge, you'll make a well-informed decision that suits your preferences and future plans.
Factor in Ongoing Expenses
Homeownership comes with ongoing financial responsibilities. Beyond the purchase price, factor in property taxes, homeowners' association fees, maintenance costs, and utilities. Assess these costs alongside your monthly income to avoid financial strain. This thorough outlook ensures you're prepared for the full financial commitment.
Strategic Property Investment
Even if you envision your new home as your forever abode, consider its resale value. Check property appreciation rates in the area and make structural or aesthetic choices that could positively impact resale value. Opt for a property with a strong potential for appreciation, ensuring a wise investment that aligns with your long-term financial goals.
Make Home Security a Priority
Safety is paramount in your new abode. Your home should be a sanctuary, and ensuring its safety — ensuring your own safety as a woman living alone — is crucial for peace of mind. Evaluate the neighborhood, inquire about local crime rates, and consider the accessibility of emergency services. Inspect the property for durable locks, fortified windows, and strong entry doors. It's also pivotal to budget for a reliable home security system and use online resources to find one that matches your needs. Look for features like smart door locks, surveillance cameras, and 24/7 monitoring.
The Importance of a Home Inspection
Invest in a comprehensive home inspection when you find a potential home. This step helps uncover hidden problems like plumbing issues, roof damage, or faulty electrical work. Being proactive in identifying issues can save you from unexpected headaches down the road and may also give you some leverage in negotiations.
Understanding Legal Documents
The importance of understanding the legal paperwork that accompanies the homebuying process cannot be overstated. These documents outline the terms, conditions, and legal obligations involved in your real estate transaction. It's wise to work closely with a legal expert or your real estate agent who can explain these documents in detail, clarify any uncertainties, and ensure that your interests are protected. Failing to do so may expose you to unforeseen risks or contractual issues.
Navigating the homebuying journey as a single woman requires careful planning and informed decision-making. By following these key points, you'll empower yourself to make confident choices, securing a home that not only fulfills your immediate needs but also aligns with your future aspirations. Remember, preparation is the key to a successful and fulfilling homeownership experience.
Let me know if there is any issue understanding them, I will be more than glad to help you out.
Have a great read!
I am Prema Chuttoo, your guide in the crypto journey.
Enjoy the educational part of Organically SEO Ranking!
Prema Chuttoo
SAP Technical Consultant/Company Director/author
Belgium
Also read: Cryptocurrency Prices: A Guide to Understanding Market Value
Magnetic Globe
This high-tech Magnetic Globe features a microprocessor and electronic control unit in its base, along with an electromagnet and magnetic field sensor in its floating Earth. Gently blowing on it makes the Earth spin, making it an intriguing decoration for retail stores, offices, and homes. It's suitable for various purposes like advertising, teaching, and gifting. The C-shaped design comes in three color options (blue, black, gold) and includes colorful LED lights for nighttime appeal. This gadget creates a pleasant atmosphere, making it perfect for work, discussions, and as a unique gift for all ages. One Magnetic Levitation Globe Ornament included in the package.
You can also buy this Magnetic Globe from Shopenzer at $55.99
At the heart of this high-tech marvel lies a microprocessor and an electronic control unit carefully integrated into its base. These components work in tandem to control the levitation and rotation of the globe. The base's primary function is to generate an electromagnetic field that suspends the Earth in mid-air, defying gravity. This magnetic force is created by an electromagnet housed within the base, which exerts an upward magnetic pull on the globe, allowing it to hover effortlessly.
The magic doesn't stop there, though. The floating globe incorporates a magnetic field sensor within the Earth itself. This sensor constantly monitors the magnetic field generated by the base, ensuring that the globe remains stable and centered within the magnetic field. Any slight displacement of the globe is detected by the sensor, prompting the control unit to make real-time adjustments to maintain its position. This intricate interplay of technology creates the illusion of a floating planet, a spectacle that never fails to amaze.
The floating Earth isn't just a technological marvel; it's also a versatile and attractive decoration suitable for various environments. Its sleek and futuristic design makes it a perfect addition to retail stores, offices, and homes alike.
Placing it in a prominent location instantly transforms the space into a showcase of modern innovation. The device's ability to captivate people of all ages ensures that it will be a focal point of attention and admiration.
The floating globe is an excellent gift idea that can surprise and delight friends and guests. Whether for a birthday, Christmas, or any special occasion, this high-tech device is sure to leave a lasting impression. Its combination of art and technology makes it a unique and thoughtful present that transcends traditional gift-giving.
Beyond its decorative and gifting potential, the floating globe finds utility in various applications. It is commonly used in advertising, where its magnetic levitation can draw attention and create a memorable impression. In educational settings, it serves as an engaging teaching tool, helping students grasp complex concepts related to magnets and gravity. Its presence in the home or office creates an inspiring atmosphere that encourages creativity and sparks conversation.
The device's design is elegant and minimalistic, taking the form of a "C" shape with dimensions of approximately 6.81 inches in height and 7.09 inches in width. It is available in three striking globe colors: blue, black, and gold. To enhance its visual appeal, the floating globe features colorful LED lights, adding a touch of enchantment to its appearance, especially when used in dimly lit settings or at night.
The floating globe's power supply accepts a wide input voltage range, spanning from 110 to 240V AC, ensuring compatibility with various electrical systems worldwide. It efficiently converts this power to a stable 12V output at 250mA, providing the necessary energy for the device's magnetic levitation and LED lighting functions.
Its compact dimensions, measuring 18 x 4.8 x 17.3cm, make it a sleek and unobtrusive addition to any space. Crafted from a combination of durable materials, including ABS plastic, rubber oil coating, and metal accents, it boasts a high-quality build. It's available in three sophisticated colors: Silver, Gold, and Blue, adding a touch of elegance to its design.
In conclusion, the high-tech floating globe is a remarkable fusion of technology and design that brings a touch of magic to any environment. It is more than just a decorative piece; it's an embodiment of innovation and a source of inspiration. Whether you're looking to create a captivating display, surprise a loved one with a unique gift, or simply elevate the ambiance of a space, this device offers an enchanting and mesmerizing solution. Its ability to float gracefully and spin with just a gentle breath creates an atmosphere that fosters creativity, conversation, and a sense of wonder, making it a truly exceptional addition to any setting.
Also Buy, Stay Sweat-Free and Stylish with the NeckBreeze Portable Fan
Cryptocurrency: A Complex Puzzle
Cryptocurrency, the revolutionary digital currency that emerged with Bitcoin in 2009, has captivated the financial world with its meteoric rise and unpredictable price swings. Understanding the dynamics of cryptocurrency price movements is a complex endeavor, as it involves a combination of factors, both traditional and unique to this digital asset class. In this essay, we will delve into the fascinating world of cryptocurrency price analysis, exploring the key factors that influence these valuations and the tools and methods employed by traders, investors, and analysts to make sense of this volatile market.
Hey guys, I am Prema Chuttoo- your crypto guide in your crypto journey.
Let's continue…..
Factors Influencing Cryptocurrency Prices
Supply and Demand: Like traditional commodities, the price of cryptocurrencies is heavily influenced by the basic economic principle of supply and demand. The limited supply of many cryptocurrencies, such as Bitcoin with its fixed cap of 21 million coins, can lead to price increases when demand rises.
Market Sentiment: Market sentiment plays a pivotal role in cryptocurrency price movements. News, social media trends, and public perception can drive rapid price changes, often referred to as "FOMO" (Fear of Missing Out) or "FUD" (Fear, Uncertainty, Doubt) moments.
Regulation and Legal Developments: Cryptocurrency markets are highly responsive to regulatory changes and government interventions. Positive regulatory news can boost confidence, while negative developments can trigger sell-offs.
Technological Developments: Upgrades, changes in consensus mechanisms, or the release of new features can significantly impact a cryptocurrency's price. For example, Ethereum's transition to Ethereum 2.0 and its move to Proof of Stake garnered considerable attention.
Market Liquidity: Liquidity, or the ease with which an asset can be bought or sold without significantly affecting its price, is crucial in cryptocurrency markets. Illiquid markets are more prone to price manipulation.
Tools and Methods for Cryptocurrency Price Analysis
Technical Analysis: This method involves analyzing historical price charts, patterns, and trading volumes to predict future price movements. Tools like Moving Averages, Relative Strength Index (RSI), and Fibonacci retracement levels are commonly used.
Fundamental Analysis: Similar to stock market analysis, this approach assesses the underlying value of a cryptocurrency by examining factors such as adoption, technology, development team, and real-world use cases.
On-Chain Analysis: On-chain data, which includes metrics like transaction volume, active addresses, and miner activity, provides insights into network health and user behavior. Services like Glassnode and Chainalysis offer valuable on-chain data.
Sentiment Analysis: Utilizing natural language processing (NLP) and machine learning, sentiment analysis tools scan news articles and social media to gauge public sentiment. Positive or negative sentiment can be used as a contrarian indicator.
Quantitative Analysis: Traders and analysts employ quantitative models, often using mathematical and statistical techniques, to make predictions about price movements. These models may incorporate data on trading volume, volatility, and historical price patterns.
Cryptocurrency Price analysis is a multifaceted field that combines elements of traditional finance with the unique characteristics of digital assets. Traders and investors navigate a complex landscape filled with price volatility, regulatory uncertainty, and evolving technology. While various tools and methods are available, it's important to remember that cryptocurrency markets are still relatively young and lack the maturity and stability of traditional financial markets. As a result, they remain highly speculative and carry inherent risks.
In this ever-evolving ecosystem, understanding the intricacies of cryptocurrency price analysis is a valuable skill for anyone involved in this exciting, yet unpredictable, financial frontier. As the cryptocurrency space continues to evolve, so too will the methods and tools used to analyze and interpret price movements, making it a dynamic and compelling area of study for the future.
Let me know if there is any issue understanding them, I will be more than glad to help you out.
Have a great read!
I am Prema Chuttoo, your guide in the crypto journey.
Enjoy the educational part of Organically SEO Ranking!
Prema Chuttoo
SAP Technical Consultant/Company Director/author
Belgium
Also read: How Cryptocurrency Is Changing the Way We Transact, Invest, and Shape the Financial Landscape
NeckBreeze Portable Fan
The NeckBreeze Portable Fan offers a range of benefits, including staying sweat-free in hot weather, enhancing style, providing a low-noise experience, and being compact and lightweight. Its bladeless design ensures hair safety while delivering a refreshing breeze. Operating at just 25 dB, this eco-friendly fan creates a tranquil atmosphere. To use, wear it around your neck, adjust the fan speed, and enjoy the cooling effect powered by a long-lasting battery. It's the perfect accessory for staying cool, comfortable, and fashionable in any setting, making hot weather a breeze to endure.
You can also buy this NeckBreeze Portable Fan from TechnoAnt at $34.11
As the sweltering heat of summer approaches, we all seek ways to beat the heat and stay comfortable. Sweating profusely, feeling sticky, and enduring the discomfort of soaring temperatures are some of the common challenges we face during hot weather. Fortunately, innovation has come to the rescue with the NeckBreeze Portable Fan, a revolutionary device that promises to keep you sweat-free and stylish while offering a host of other benefits.
Stay Sweat-Free, Even in the Hottest Weather
One of the most significant benefits of the NeckBreeze Portable Fan is its ability to keep you sweat-free, even in the most scorching conditions. Say goodbye to the uncomfortable sensation of perspiration trickling down your face and body. This innovative neck fan provides a refreshing breeze that instantly cools you down, making you forget about the heat altogether.
The NeckBreeze Portable Fan is designed to be your trusty companion during hot weather. Its cooling effect is not just a temporary relief but a game-changer for those who want to remain fresh and comfortable throughout the day. Whether you're at work, out for a jog, or simply lounging in the backyard, this fan's cooling breeze will keep perspiration at bay and help you stay cool and collected.
Stay Cool, Stylish, and Unique
Beyond its cooling capabilities, the NeckBreeze Portable Fan is designed to enhance your style. Its sleek and versatile design effortlessly complements a wide range of outfits, from casual attire to more formal looks. Whether you're dressed in jeans and a t-shirt or sporting a dressy ensemble, this neck fan adds a trendy and cool factor to your overall appearance.
Gone are the days when staying cool meant sacrificing style. The NeckBreeze Portable Fan lets you stand out from the crowd with its unique blend of fashion and function. It's not just a practical accessory; it's a statement piece that showcases your sense of style and individuality. Say hello to a new era of fashion-forward comfort.
Enjoy a Low-Noise Design
Noise can be a significant distraction, especially when you're trying to relax or focus on your tasks. The NeckBreeze Portable Fan understands the importance of maintaining a peaceful environment, and that's why it boasts a low-noise design. Its modified motor produces noise as low as 25 dB, ensuring that you can enjoy the refreshing breeze without any disruptive sounds.
The fan is made of eco-friendly ABS and silicone materials, which not only make it quieter but also softer and more durable. You'll hardly notice it's there, except for the soothing airflow it provides. Whether you're working, reading, or simply unwinding after a long day, the NeckBreeze Portable Fan creates a serene atmosphere that helps you stay focused and relaxed.
Keep Your Hair Safe with Bladeless Design
Worrying about your hair getting tangled or caught in a traditional fan's blades is a thing of the past with the NeckBreeze Portable Fan. Its bladeless design ensures that your hair remains safe and undisturbed while you enjoy the refreshing breeze. Whether you have long, flowing locks or an intricate updo, this fan is your hair's best friend.
The bladeless technology not only guarantees safety but also contributes to the fan's quiet operation. It's a win-win situation: you get to keep your hair looking perfect, and you can relish the cooling sensation without any discomfort or inconvenience.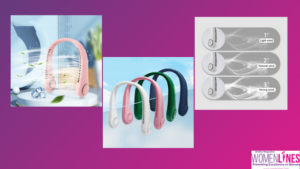 How Does It Work?
The NeckBreeze Portable Fan operates on a simple yet ingenious principle. Instead of traditional fans with spinning blades, this innovative device uses a bladeless design to create a cooling breeze. When turned on, the fan generates a gentle stream of air that circulates around your neck, providing instant relief from the heat.
The bladeless technology not only ensures safety but also maximizes the efficiency of airflow. You can trust that the NeckBreeze Portable Fan will effectively cool you down without any risk of hair getting tangled or caught in the fan's mechanism. It's a smart and practical solution for staying cool and comfortable.
How Do I Use It?
Using the NeckBreeze™ Portable Fan is as easy as it gets. Simply wear it around your neck, adjust the fan speed to your liking, and feel the refreshing airflow. Its lightweight and ergonomic design make it comfortable to wear for extended periods, ensuring that you can stay cool all day long.
The fan operates quietly, allowing you to enjoy the cooling sensation without any disturbing noise. Whether you're at the office, on public transportation, or in the comfort of your home, the NeckBreeze Portable Fan creates a serene environment where you can beat the heat without any hassle.
In the relentless battle against the heat, the NeckBreeze Portable Fan emerges as a champion of comfort, style, and innovation. With its ability to keep you sweat-free, enhance your style, operate quietly, and ensure the safety of your hair, it's a must-have accessory for anyone looking to stay cool and collected in hot weather.
Don't let the heat get the best of you. Embrace the NeckBreeze Portable Fan and experience a new level of comfort and style that defies the scorching temperatures. Stay cool, stay stylish, and stay unique with this innovative neck fan that's changing the game of personal cooling.
Also Buy, Sleek and Stylish 3-in-1 Wireless Charger for Your Desk
3-in-1 Wireless Charger
The ultimate 3-in-1 Wireless Charger for your charging needs – a versatile and compact device that effortlessly charges three of your essential gadgets simultaneously. With lightning-fast 15W output, you'll experience rapid charging, ensuring you're always powered up and ready to tackle your day. The ergonomic phone stand not only keeps your devices accessible but also declutters your workspace with its space-saving foldable design. Safety is paramount with magnetic alignment, preventing accidental slips. Plus, its universal compatibility means you can bid farewell to multiple chargers. Perfect for your on-the-go lifestyle, this travel-friendly charger ensures you're never left in the dark, making it your ideal travel companion.
You can also buy this 3-in-1 Wireless Charger from TechnoAnt at $51.99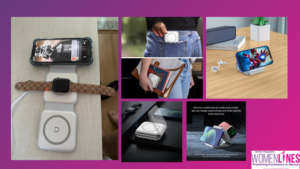 In today's fast-paced world, the need for efficient and convenient charging solutions for our ever-increasing number of electronic devices is greater than ever. Enter the multi-device charger that promises to simplify your life by allowing you to charge three devices simultaneously while delivering rapid charging speeds. Let's delve into the features and benefits of this innovative charging solution.
Convenience Redefined: Gone are the days of struggling to find enough outlets or USB ports to charge your smartphone, smartwatch, and wireless headset separately. This multi-device charger seamlessly handles all three, making it an indispensable addition to any tech-savvy individual's arsenal.
Speedy Charging: One of the standout features of this charger is its impressive 15W output, which translates to lightning-fast charging times. Whether you're rushing out the door or need a quick power top-up during a busy day, this charger has you covered. With such rapid charging capabilities, you'll always be ready to tackle your next adventure or task.
Space-Saving Design: In a world where desk space is at a premium, the folding stand feature of this charger is a game-changer. When not in use, you can easily fold it up and stow it away, freeing up valuable workspace. Say goodbye to tangled cords and clutter, and hello to a cleaner and more organized environment.
Safety First: Accidental slips and drops while charging can be a costly and frustrating experience. However, this charger takes safety seriously with its magnetic alignment feature. This ensures that your devices are perfectly positioned and securely attached during charging, reducing the risk of any mishaps. Your valuable tech gear is in safe hands.
Universal Compatibility: One of the headaches of owning multiple devices is dealing with various chargers and cables. This charger eliminates that problem with its universal compatibility. Whether you have an iPhone, Android device, Apple Watch, or any other compatible gadget, this charger can handle it all. No more hunting for specific chargers or adapters; everything you need is right here.
Travel-Friendly: For frequent travelers, the portability of this charger is a godsend. Its foldable design means it can easily slip into your bag or luggage, ensuring you're never without power, no matter where your adventures take you. Whether you're on a business trip or exploring a new city, you can count on this charger to keep your devices juiced up.
In today's fast-paced world, we rely heavily on our electronic devices to stay connected, productive, and entertained. This multi-device charger not only simplifies your life but also enhances your overall experience with its array of features. It's the epitome of convenience, ensuring you're always powered up and ready to take on the day.
In conclusion, the multi-device charger is a versatile and indispensable tool for anyone looking to simplify their charging routine. With its simultaneous charging capability, rapid charging speed, space-saving design, safety features, universal compatibility, and travel-friendliness, it's a must-have accessory for tech enthusiasts and busy individuals alike. Say goodbye to the hassle of multiple chargers and cords cluttering your space, and say hello to the ultimate convenience of a 3-in-1 Wireless Charger. Whether you're at home or on the go, this charger has got you covered, ensuring your devices are always ready when you are.