10Web.io Revolutionizing Websites with AI Power
10Web.io is a groundbreaking platform that revolutionizes website creation and content generation through the power of artificial intelligence. This innovative tool offers a suite of services designed to empower businesses of all sizes, making it easier and more efficient to establish a strong online presence.
At the heart of 10Web.io is its AI Writing Assistant, a powerful tool that transforms the way content is created. By leveraging the capabilities of artificial intelligence, users can write and refine original content a remarkable 10 times faster. This is particularly advantageous for those working within the Gutenberg and Classic Editor environments.
The AI Writing Assistant is not merely a content generator; it goes beyond by generating SEO-optimized content. It seamlessly integrates with Yoast SEO to identify and rectify SEO and readability errors, ensuring that the content ranks higher in search engine results. This dual functionality of content creation and optimization sets 10Web.io apart as a comprehensive solution for businesses looking to enhance their online visibility.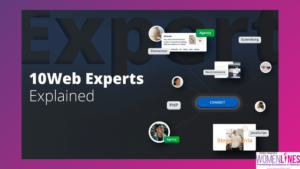 The AI Website Builder offered by 10Web.io is a game-changer for those seeking to establish an online presence swiftly and efficiently. Users can take advantage of AI technology to expedite website creation, providing a jumpstart to the entire process. The platform allows for the development of professional websites at a speed 10 times faster than traditional methods.
The inclusion of AI-generated content and images further streamlines the customization process. With a user-friendly drag-and-drop editor, businesses can create and customize their websites with confidence, even without extensive technical expertise.
For businesses venturing into the realm of e-commerce, 10Web.io provides an AI Ecommerce Website Builder. This feature empowers businesses to build and scale their online stores rapidly, reaching customers anywhere and everywhere. The integration of AI in the e-commerce website building process enhances efficiency, enabling businesses to adapt and grow in the ever-evolving digital landscape.
10Web.io extends its support to businesses from the very inception with its AI Business Name Generator. By providing detailed information about the business and specifying preferences such as name length, users can rely on AI to generate a fitting and compelling name for their venture. This service eliminates the arduous task of brainstorming and ensures that the business name aligns with the brand identity.
Furthermore, 10Web.io offers an AI Marketing Strategy Generator, a tool that assists businesses in formulating tailored marketing strategies. By describing the nature of their business, users can tap into the expertise of AI to generate a strategic plan that aligns with their goals. The seamless integration with the website building capabilities of 10Web.io ensures a cohesive approach, allowing businesses to implement their marketing strategies effectively.
One of the standout features of 10Web.io is its affordability. The platform's pricing structure makes these advanced AI-powered services accessible to businesses of all sizes. This democratization of technology ensures that even small businesses with limited budgets can harness the power of AI to elevate their online presence, compete effectively, and thrive in the digital landscape.
In conclusion, 10Web.io emerges as a comprehensive and affordable solution for businesses seeking to enhance their online presence. By integrating artificial intelligence into content creation, website building, e-commerce, business naming, and marketing strategy generation, 10Web.io empowers businesses to thrive in the digital age.
I am Prema Chuttoo.
SAP Technical Consultant/Company Director/author
Belgium
Register on Web3 browsers to get started!
Also read, Revolutionize Customer Service with ChatSimple.ai Chatbots
Follow Womenlines on Social Media