Anti-Slip Vibrating Electric Brush
Introducing our advanced Vibration Massage Soft Comb, a game-changer for your hair care routine. Designed for both wet and dry hair, this electric detangling brush features soft comb teeth that are gentle on your scalp, preventing hair pulling and frizz.
The unique vibration massage function not only eases hair detangling but also boosts blood circulation in your scalp, alleviating pressure and fatigue. Furthermore, it effectively neutralizes positive ions in your hair with a surge of negative ions, resulting in smoother, less frizzy, and shinier hair, while reducing split ends and static electricity.
Experience the benefits of professional-level hair care with our Vibration Massage Soft Comb.
You can also buy this Anti-Slip Vibrating Electric Brush from Shopenzer at $34.99
Are you tired of struggling with hair loss, frizz, and unmanageable locks? Look no further! Our revolutionary Vibration Massage Soft Comb Detangling Brush is here to transform your hair care routine and give you the beautiful, smooth, and healthy hair you've always dreamed of.
Innovative Vibration Massage Function:
Our soft comb teeth design incorporates a unique vibration massage feature that sets this hairbrush apart from the rest. While you comb your hair, it gently massages your scalp, promoting increased blood circulation in your head. This not only feels incredibly relaxing but also helps relieve pressure and fatigue, making it perfect for a stress-relieving hair care routine.
Say Goodbye to Frizz and Split Ends:
One of the key features of our detangling brush is its ability to neutralize positive ions in the hair by releasing high concentrations of negative ions. This advanced technology effectively smoothes frizz, reduces split ends, and eliminates static electricity, leaving your hair looking shiny, smooth, and irresistibly touchable.
Suitable for Wet and Dry Hair:
Whether your hair is dry or wet, our electric detangling brush is up for the task. It's a versatile tool used by professionals to prevent hair tangling and minimize hair loss during combing. Say goodbye to the pain and hassle of detangling knots in your hair.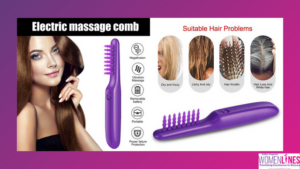 Experience the pinnacle of hair care with our Vibration Massage Soft Comb Detangling Brush, thoughtfully designed to cater to your every need. Crafted from durable ABS material, it boasts a versatile roll and straight dual-use design, suitable for both wet and dry hair. The heat conductor, made from an environmentally friendly alloy, measures a diameter of 15mm or less and offers precise temperature control with 15 adjustable segments. Achieve your ideal hairstyle in just 1-2 minutes, thanks to the brush's 10 segments. Elevate your hair care routine with this innovative, easy-to-use tool, and unlock the secret to effortlessly gorgeous locks.
Our Vibration Massage Soft Comb Detangling Brush is designed with your hair's health and your convenience in mind. The soft comb teeth are gentle on the scalp, ensuring no harm, hair pulling, or frizz. The temperature control feature allows you to tailor your hair care routine to your needs, while the rapid vibration massage ensures a spa-like experience every time you comb your hair.
Are you ready to transform your hair care routine and say goodbye to hair loss, frizz, and static? Our detangling brush is the solution you've been searching for. Whether you have straight, curly, or wavy hair, this versatile tool is suitable for all hair types. With its sleek design and easy-to-use functions, you can achieve salon-quality results from the comfort of your home.
Invest in the future of your hair. Experience the difference with our Vibration Massage Soft Comb Detangling Brush, and let your hair shine with health and vitality. Say hello to gorgeous, manageable locks, and embrace the confidence that comes with knowing you're taking the best care of your hair.
Your journey to beautiful hair starts here!
You can also buy, Experience Quick-Drying Glamour with Velvet Shower Hair Cap
Follow Womenlines on Social Media