ALLATRA International Public Movement is a format of interaction outside of politics and religion. On July 24th, 2021 the international conference "Global Crisis. This Already Affects Everyone" gathered IT, climate, ecology, and other specialists from all over the world. One of the most important topics raised at the conference was the Ecological and Environmental crisis. This is what Allatra Team talked about in the round table shared in the video above.
This global Movement, already joined by millions of people from over 140 countries, is open to all people of goodwill regardless of their place of residence, nationality, social status, religion or political affiliation. The activities of this volunteer, all people's movement, are aimed at reviving spiritual and moral values in the world community and establishing a peaceful dialogue around aspects of life within society such as cultural, social, spiritual and moral conditions.
The main activities are carried out through the voluntary initiative of people, their desire to change themselves and the world for the better. This is a unique, peaceful global movement in which people, in their spare time, successfully implement an entirely new form of communication, an interaction that results in the unification of people around the world based on the principles of honesty, kindness, and justice. This is the power that really unites people across the planet.
Many topics have been raised, and unfortunately, these are not all the threats that humanity is facing right now. This information is of urgent importance to everyone. Therefore, on December 4, 2021, there will be another conference, "The Global Crisis. The Time of Truth." on Allatra TV.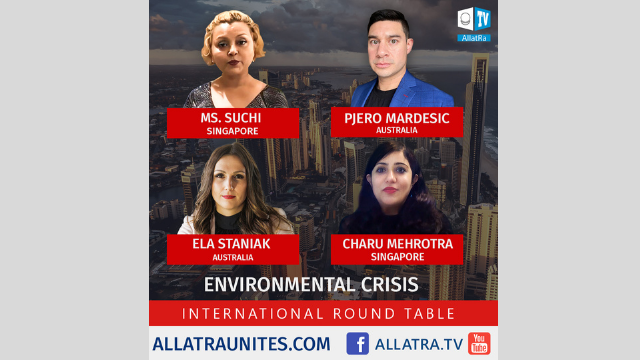 Honourable guests at the round table organised on 31st July are:
Ms Suchi – A Laughter Coach, Global Goodwill Ambassador, Former Environmental Advisor at National Environment Agency | Singapore
Pjero Mardesic – CEO of Conquer the Uncomfortable, Unleash Your Potential and Adictd2grow – Conquer Your Mind, Unleash Your Soul | Australia
Ela Staniak – Feminine Leadership Coach, Diversity & Inclusion Advocate, TEDx Speaker | Australia
Charu Mehrotra – founder of an online magazine Womenlines, Global Goodwill Ambassador | Singapore
We are living in a rapidly changing world. But what direction does it change into? Do we realize what awaits humanity within the next several years? The international online conference Global Crisis. This Already Affects Everyone has provided a holistic picture of what is happening. Famous scientists from various parts of the globe presented unquestionable facts of the entire seriousness and inevitability of the current situation in the world.
Issues that are vitally important for the entire humanity continue to be discussed on the platform of the ALLATRA International Public Movement.
ALLATRA TV International Internet Television official website: https://allatra.tv/en
E-mail: info@allatra.tv
Subscribe to https://www.womenlines.com to become the best version of yourself! Womenlines is a weekly online magazine publishing content on Business Excellence, Health, Leadership Skills and listed in the top 50 women's online magazines to follow in 2021!
Follow Womenlines on Social Media