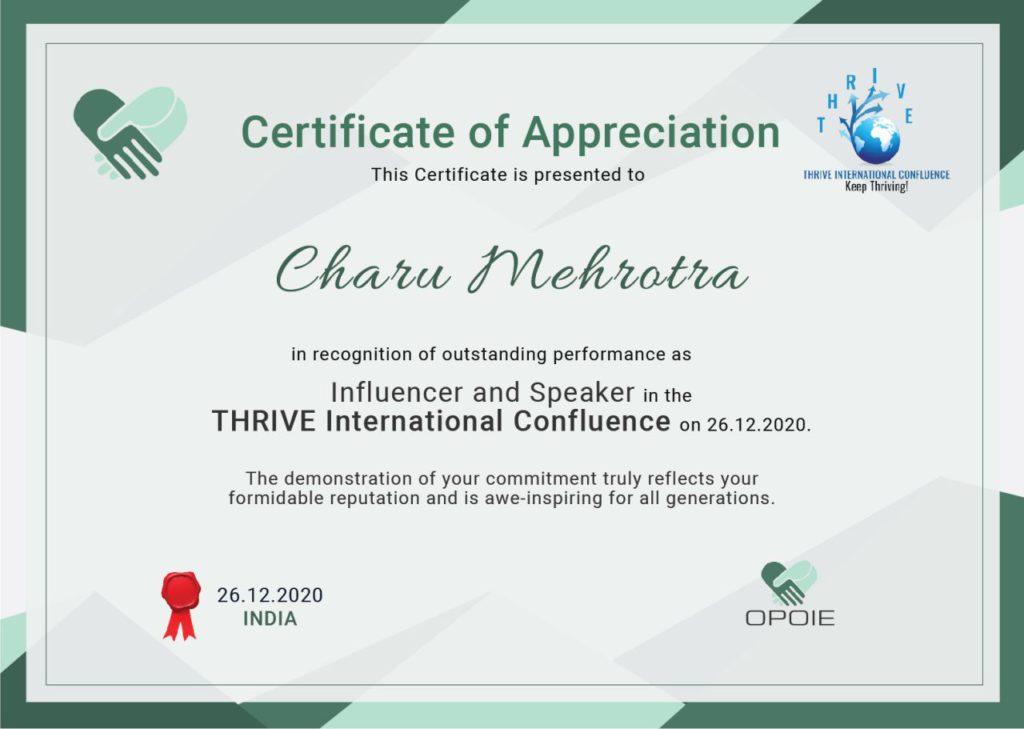 Preview Talk on the topic 'Happiness' by Ms Charu Mehrotra from Singapore, Founder Online Magazine https://www.womenlines.com, in the THRIVE International Confluence!
Thrive International Confluence is organized every month by https://opoie.com/, which is a rich congregation of IIT and IIM graduates synergising with successful corporate leaders and academicians with the common objective of holistically enriching individual persona and talent.
KP Singh, CEO OPOIE shared-
The charming Charu Mehrotra spreading happiness in the lives of millions by her magazine and her smile. You spread happiness across the globe and your speech gave the real insights to happiness. The sweet speech in the THRIVE International Confluence on December 26, 2020 left everyone spellbound. Each participant wanted to listen to you endlessly. It was really enlightening the way you connected "Happiness" to family life. Wow, you were appreciated by one and all.

A humble recognition by a certificate of appreciation from the team THRIVE and team OPOIE to salute your colossal persona.
Keep Thriving!

KP Singh, CEO OPOIE
Subscribe https://www.womenlines.com to become the best version of self! Womenlines is a weekly online magazine publishing content on Business Excellence, Health, Leadership Skills and listed in top 40 women's online magazines to follow in 2020!
Follow Womenlines on Social Media