Thrilled to welcome Vanessa Ong from Singapore as we celebrate her entrepreneurial success! She's the driving force behind Gernise Global PTE LTD and the innovative Founder of Mamashop & Glyken!  Join us as she graces the Stellar Entrepreneur Show at Womenlines, sharing her insights and achievements.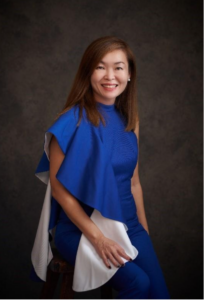 Vanessa Ong, 45 years old and a mother of twins, started her entrepreneurial journey in 2004. She has faced many challenges in her career, including a failed partnership in 2011. But instead of letting this setback defeat her, she used it as motivation to start over again.
In 2014, she started her 2nd company Gernise Global Pte Ltd as a distributor of plastics raw materials and obtained exclusive distributorship from Sichuan Longhua Factory for Southeast Asia markets and focused on B2B markets in the automotive, electrical, and telecommunications industries.
MamaShop, a homegrown Singaporean eco-lifestyle brand with our future generations at the heart of our work, was born out of a mother's love for her children. On the lookout for safe and good kids' wear for her young pair of twins, Vanessa realized that those benefits should rightly come with environmental benefits too. After all, using more natural materials and less plastic could help reduce non-biodegradable waste and pollution, and caring for her children should include protecting the planet they will be living in for the whole of their lives. To make it easier for like-minded consumers to find sustainable and healthy products for the family, she decided to bring the products that her children were already using into her enterprise, Gernise Global Pte Ltd. This new venture, set up in 2015, was thus named MamaShop. The 1st homegrown eco company to team up with Disney Singapore to produce sustainable products in 2021.
Since its founding, MamaShop has been expanding its brand and product offerings to meet the needs of mothers and eco-curious people. While it started with dining ware and kitchen utensils, it now has stationery in store, pocketable straws, and lunch boxes. Vanessa keeps abreast of the latest product developments and even works with brands to develop designs that are genuinely better for people and the planet. As much as possible, the products should help promote the growth of the circular economy and encourage sustainable lifestyle habits. By making eco-friendly products more accessible and appealing, she hopes to contribute to the sustainability movement in Singapore. We are mindful of what matters and believe in caring for the people we love and the earth we live. It matters what we put into the mouths of babes, how we consume in our everyday lives, and what remains here on earth for future generations. This mindfulness anchors how and what we design and produce in MamaShop.
We embark on this lifelong journey to make a conscious decision to reduce, reuse and recycle to save the ecosystem in which we live. More than just an online store, MamaShop also engages in environmental education. It partners with schools to reach students and staff and runs a blog sharing digestible nuggets of eco-info and eco-tips.
As an SME, it actively supports fellow local businesses and entrepreneurs, especially working mothers. Thus, her two co-founders, they started Mumpreneurs-Go-Places- an online portal showcasing Singapore-based Mumpreneur business.
She is a true believer in doing good and giving back, and her actions reflect her values. From volunteering to supporting local charities, she always looks for ways to impact the world positively. She uses her entrepreneurial skills and resources to create initiatives to help those in need and inspires others to do the same.
"Farmpack for A cause" is an example of what can be achieved when you combine a passion for business with a desire to make a difference.
Together with The Local Farm, she brought together 52 SMES within seven days to raise funds for "Farmpack for a Cause" to support 75 beneficiaries in 2021 and 2022.
In 2023, in just ten days, she gathered 50 SMEs and individual donors and raised enough produce for 500 families from Canberra, Marsiling, and Woodgrove!
In 2020 during the pandemic, she was gifted "Glyken Birdnest" from her overseas business partners. For a birdnest lover, she was amazed by this technology-patented bird nest which comes in sachets. The perfect solution for one who is always on the go and has limited time for self-care and self-love. Bird nest has had a long history, but traditional methods of harvesting, preparation, and consumption leave much to be desired and offer limited health benefits. Vanessa saw a gap in the market and thus decided to take up the distributorship and officially launched Glyken Bird Nest in Dec 2020.
Utilizing our unique patented technology – Glyken Bio Extraction – the essential ingredient, Active Glycoprotein Peptide, is extracted and processed into a powder form that is smaller in molecules,
thereby saving the need for the body to break down the nutrients and allowing for easier absorption by the body can reap the maximum benefits more quickly and retent the nutrients more effectively.
She is always looking for new opportunities to grow and innovate, and her passion for sustainability and wellness is at the forefront of her business dealings.
Her story is a testament to the power of giving back and positively impacting the world.
Also read: Breaking Barriers: How Lilian Ong Empowers Women with Courage
Follow Womenlines on Social Media