3-in-1 Wireless Charger
The ultimate 3-in-1 Wireless Charger for your charging needs – a versatile and compact device that effortlessly charges three of your essential gadgets simultaneously. With lightning-fast 15W output, you'll experience rapid charging, ensuring you're always powered up and ready to tackle your day. The ergonomic phone stand not only keeps your devices accessible but also declutters your workspace with its space-saving foldable design. Safety is paramount with magnetic alignment, preventing accidental slips. Plus, its universal compatibility means you can bid farewell to multiple chargers. Perfect for your on-the-go lifestyle, this travel-friendly charger ensures you're never left in the dark, making it your ideal travel companion.
You can also buy this 3-in-1 Wireless Charger from TechnoAnt at $51.99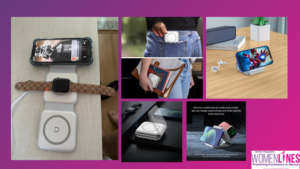 In today's fast-paced world, the need for efficient and convenient charging solutions for our ever-increasing number of electronic devices is greater than ever. Enter the multi-device charger that promises to simplify your life by allowing you to charge three devices simultaneously while delivering rapid charging speeds. Let's delve into the features and benefits of this innovative charging solution.
Convenience Redefined: Gone are the days of struggling to find enough outlets or USB ports to charge your smartphone, smartwatch, and wireless headset separately. This multi-device charger seamlessly handles all three, making it an indispensable addition to any tech-savvy individual's arsenal.
Speedy Charging: One of the standout features of this charger is its impressive 15W output, which translates to lightning-fast charging times. Whether you're rushing out the door or need a quick power top-up during a busy day, this charger has you covered. With such rapid charging capabilities, you'll always be ready to tackle your next adventure or task.
Space-Saving Design: In a world where desk space is at a premium, the folding stand feature of this charger is a game-changer. When not in use, you can easily fold it up and stow it away, freeing up valuable workspace. Say goodbye to tangled cords and clutter, and hello to a cleaner and more organized environment.
Safety First: Accidental slips and drops while charging can be a costly and frustrating experience. However, this charger takes safety seriously with its magnetic alignment feature. This ensures that your devices are perfectly positioned and securely attached during charging, reducing the risk of any mishaps. Your valuable tech gear is in safe hands.
Universal Compatibility: One of the headaches of owning multiple devices is dealing with various chargers and cables. This charger eliminates that problem with its universal compatibility. Whether you have an iPhone, Android device, Apple Watch, or any other compatible gadget, this charger can handle it all. No more hunting for specific chargers or adapters; everything you need is right here.
Travel-Friendly: For frequent travelers, the portability of this charger is a godsend. Its foldable design means it can easily slip into your bag or luggage, ensuring you're never without power, no matter where your adventures take you. Whether you're on a business trip or exploring a new city, you can count on this charger to keep your devices juiced up.
In today's fast-paced world, we rely heavily on our electronic devices to stay connected, productive, and entertained. This multi-device charger not only simplifies your life but also enhances your overall experience with its array of features. It's the epitome of convenience, ensuring you're always powered up and ready to take on the day.
In conclusion, the multi-device charger is a versatile and indispensable tool for anyone looking to simplify their charging routine. With its simultaneous charging capability, rapid charging speed, space-saving design, safety features, universal compatibility, and travel-friendliness, it's a must-have accessory for tech enthusiasts and busy individuals alike. Say goodbye to the hassle of multiple chargers and cords cluttering your space, and say hello to the ultimate convenience of a 3-in-1 Wireless Charger. Whether you're at home or on the go, this charger has got you covered, ensuring your devices are always ready when you are.