Womenlines in collaboration with Solworxs, a business services company from India, present BIZWAY- An Online Presence Platform. Bizway presents WoW award to the guest in the show to celebrate entrepreneurs milestones across digital platforms for their special achievements. With the beauty of digital content's forever presence Bizway team envisions that their stories will keep inspiring others forever!
Bizway OPP Talk Show aims at sharing the WOW story of the entrepreneurs with the global audience and celebrating their entrepreneurship journey digitally across the globe! As it is said 'Once online, forever Online' and Bizway OPP Talk Show brings to you an opportunity to celebrate your entrepreneurial journey digitally forever. If you are an entrepreneur, business owner, a friend of an entrepreneur or if you have any entrepreneur in your network whose entrepreneurial journey should be celebrated digitally, visit Bizway Talk Show to know details and register for the show!
Bizway takes pleasure to present WOW award to guests at Bizway, Speedcuber Online Course Platform XOOG's Founders  Ritvik Raj and  Karishma Seetharaman which provides a platform to teach children globally, how to become a Rubik's Speedcuber.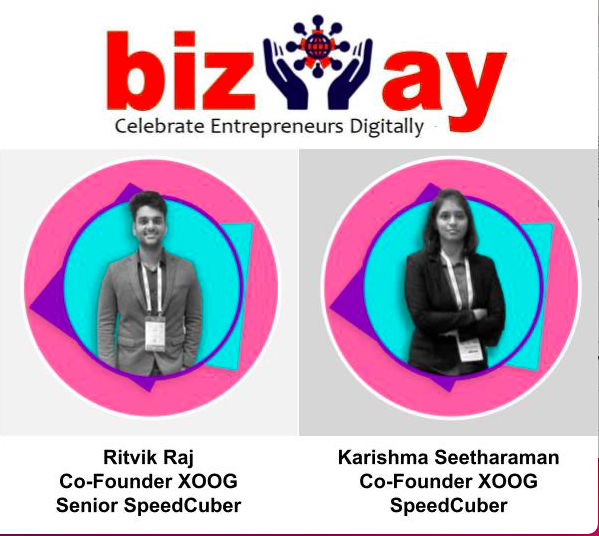 Ritvik Raj is a senior speedcuber for 8 years specializing in Curriculum Design and Mentoring. He Can solve the 3×3 Rubik's cube in 10-12 Seconds. He has done various certifications in Graphic design, Digital Art, Fitness and Nutrition and used to freelance on these domains. The science behind how people think and feel with their mind is what fascinates them and building products based on these deductions is mission. Management, Sales and Marketing are a few more avenues he has good experience on.
Karishma is an admirer of Technology and the world of coding. She loves developing innovative technological web apps . She is also a speedcuber. She used to lead the Corporate Relations team and was also the VP of Entrepreneurship Cell NITT. She interned in Neuro Marketing at Wharton Business school.
XOOG team believes-
"Everybody is a genius. But if you judge a fish by its ability to climb a tree, it will live its whole life believing that it is stupid.

– Albert Einstein.
Email urbizway01@gmail.com to register for the show!
As a startup founder reach out to Solworxs (http://www.solworxs.com/) organization which can help you to transform your ideas in businesses with the support of Mentoring, Technology Advisory, Fund Raising.
Are you looking out for physical health, leadership skills, mindset health and image branding strengthening tools to be the best version of yourself? Subscribe to weekly free powerful updates of an online magazine Womenlines for free.
Follow Womenlines on Social Media