Womenlines is delighted to welcome Nadene Joy, author of 'Love is…A Guide to the Power of Love' in the ' Books for Excellence' show at Womenlines. Hear from Nadene in her own words in the above video, how her book can do wonders for you!
No matter what stage of life and love you are in, this book walks you through "how to better enrich and transform your life with greater pure, unbounded love."

Nadene Joy
Have you ever been heartbroken, feel you did not receive the love you needed? Learn how to give and receive infinite love! Learn to tap into the power of self-love. Enjoy self-acceptance and fulfilment. How love evolves and transforms us? Get all answers by reading this book now!
Love is…A Guide to the Power of Love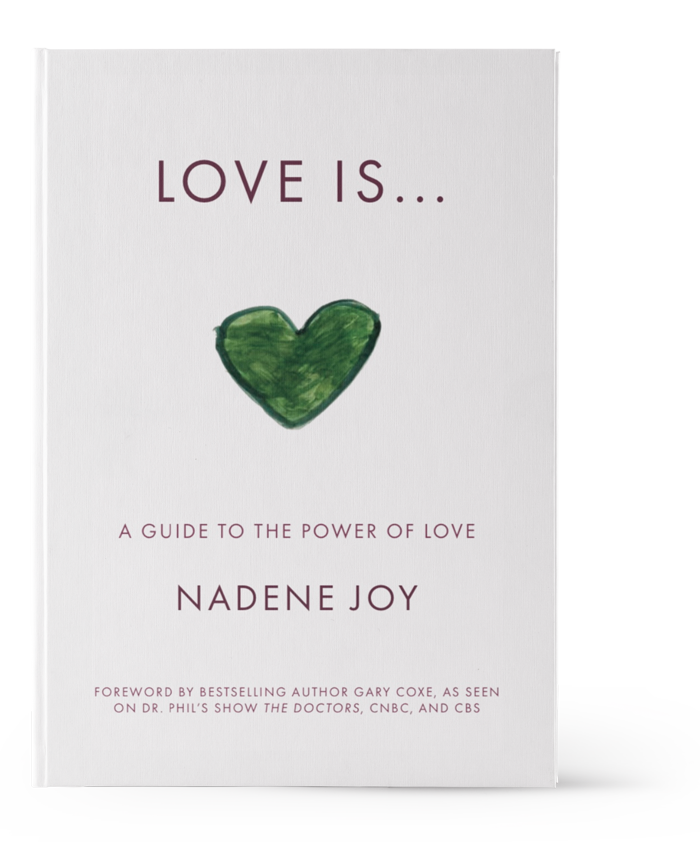 Nadene Joy helps empower people to live their life with no regrets. She was aptly named as her name "Nadene" literally means "hope" which ties so beautifully and succinctly into her global mission of bringing greater hope, joy, purpose and love to the world.
She is a top advisor, global mindset expert and is an executive leadership strategist, bestselling author, mother of 4 beautiful children and speaker who helps leaders, business owners, corporations and families get unstuck, live balanced lives, achieve their unprecedented goals and build the businesses and lives of their wildest dreams.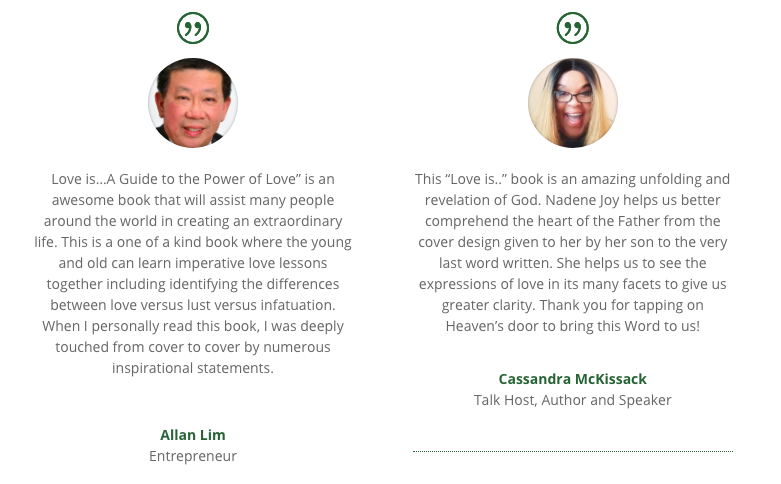 Nadene Joy is a member of The International Society for Female Professionals, Chair/Founder of The Global Lead 2 Impact Summit, Co-Founder of a corporate wellness program, and has been featured in top media outlets including USA TODAY, CBC, CBS, Fox, ABC, ihearrtadio in NYC, The Globe and Mail, and NBC. Nadene Joy is also author of the books "Uncover Your Purpose: Heal and Share Your Gifts With the World" and "Love is…A Guide to the Power of Love" and co-author of the internationally bestselling book series "Cracking The Rich Code Vol.4" with Kevin Harrington hit star of the TV Show SharkTank and business icon, Jim Britt.
Nadene Joy is truly passionate about being an impactful leader, mother to 4 beautiful children and friend who makes a positive difference in our world through taking bold action in sharing her wisdom, God-given gifts, serving others with loving kindness and bringing hope to all she encounters.
Nadene Joy wholeheartedly believes that:
"Your life is all about everyone whose life you touch and the way in which you touch it. It's about extending greater love for all and serving humanity in the greatest possible way you know how- it all starts with you and something so small and simple as a smile."

Nadene Joy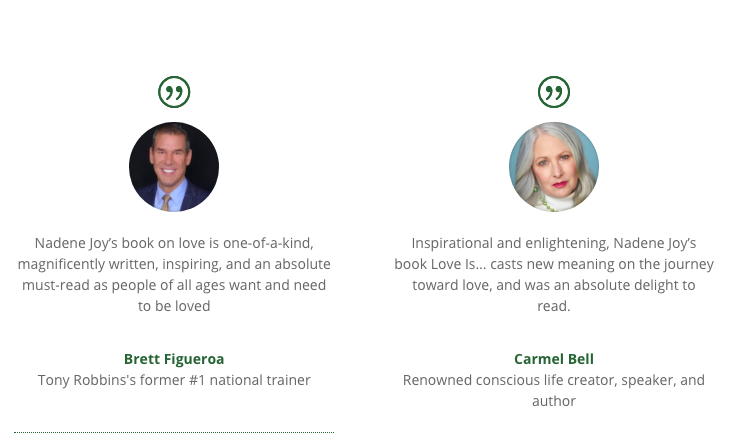 An opportunity to purchase a limited edition VIP autographed book with personalized message and blessing.Place your order now, visit ORDER!
Are you looking out for physical health, leadership skills, mindset health and image branding strengthening tools to be the best version of yourself? Subscribe to weekly powerful updates of Womenlines for free. Click https://www.womenlines.com!
Follow Womenlines on Social Media