Womenlines takes pleasure to announce the partnership with the Bringle Academy from India. Womenlines always loves to collaborate with such platforms which can help people to use their skills digitally and create earning opportunities for themselves leveraging the technology and ecosystem. In the video above Anshav Jain, founder Bringle Academy and Charu Mehrotra, founder Womenlines are sharing their views on how this collaboration is going to help womenfolk, mentors, coaches, entrepreneurs across the globe-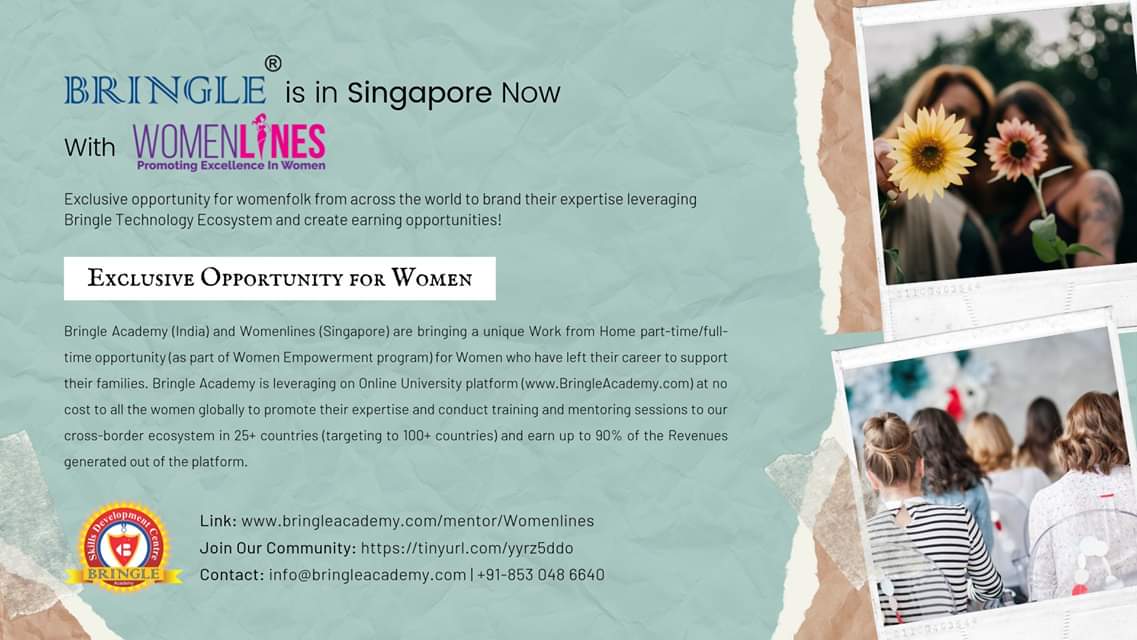 Bringle Academy has come up with a beautiful ecosystem which is giving an opportunity to womenfolk who want to launch their own training platform globally! They can get complete Learning Management Solution, Online Classrooms, Secure Recordings, Auto-trigger emails, Calendar blocking with either the Zoom link or the Google location etc with or without white-labelling. Bringle has a Digital and Outreach platform for Trainers, Mentors and coaches to run their Online + Offline + Blended Webinars, Meetups, they can run interview and panel discussions LIVE and run programs across the globe.
Bringle Academy has also a very interesting service of providing Virtual Assistants to entrepreneurs/coaches/mentors across the globe who can help them save their time doing lots of regular business-related activities. There is no denying how important a virtual presence and personal branding is for any business, especially in today's digital age. Sometimes it can get overwhelming to keep track of how your business is faring online and also of your meetings and calendars. An expert Virtual Assistant can ensure the entrepreneur's business is being seen and heard by the right people at the right time.
Bringle Academy's Virtual Platform with Managed services can help in 3 ways:-
1. Web Research and Customer Surveys
2. Network Building and Lead Management
3. Social Media and Brand Building
Bringle Academy is also associated with Vardaan initiative which is a vibrant community of professionals, organizations & individuals who are working together to challenge the status quo & establish a sustainable framework for the betterment of society. Their vision is a world based on dignity, where every human being has the same opportunity. Co-founder of Bringle Academy Sharmila Divatia founded Vardaan with an intention to support individuals & organizations with the tools, networks, technical assistance and strategic guidance needed to succeed and scale.
Reach out at contact@18.140.181.33 to know details about Bringle offerings!
Let Excellence be Your Brand!
Charu Mehrotra
Founder Womenlines
Follow Womenlines on Social Media