Charu Mehrotra Conferred the "REX Karmaveer Global Fellowship (RGKF)"
The three-day congregation celebrated inclusivity, egalitarianism and extraordinary in ordinary. Awardees for this year represented 10 plus countries
November 27, 2019, New Delhi: Charu Mehrotra has been conferred with the REX Karmaveer Global Fellowship (RGKF) instituted by International-Confederation-Of-NGO-(iCONGO) in partnership with UN (United-Nations).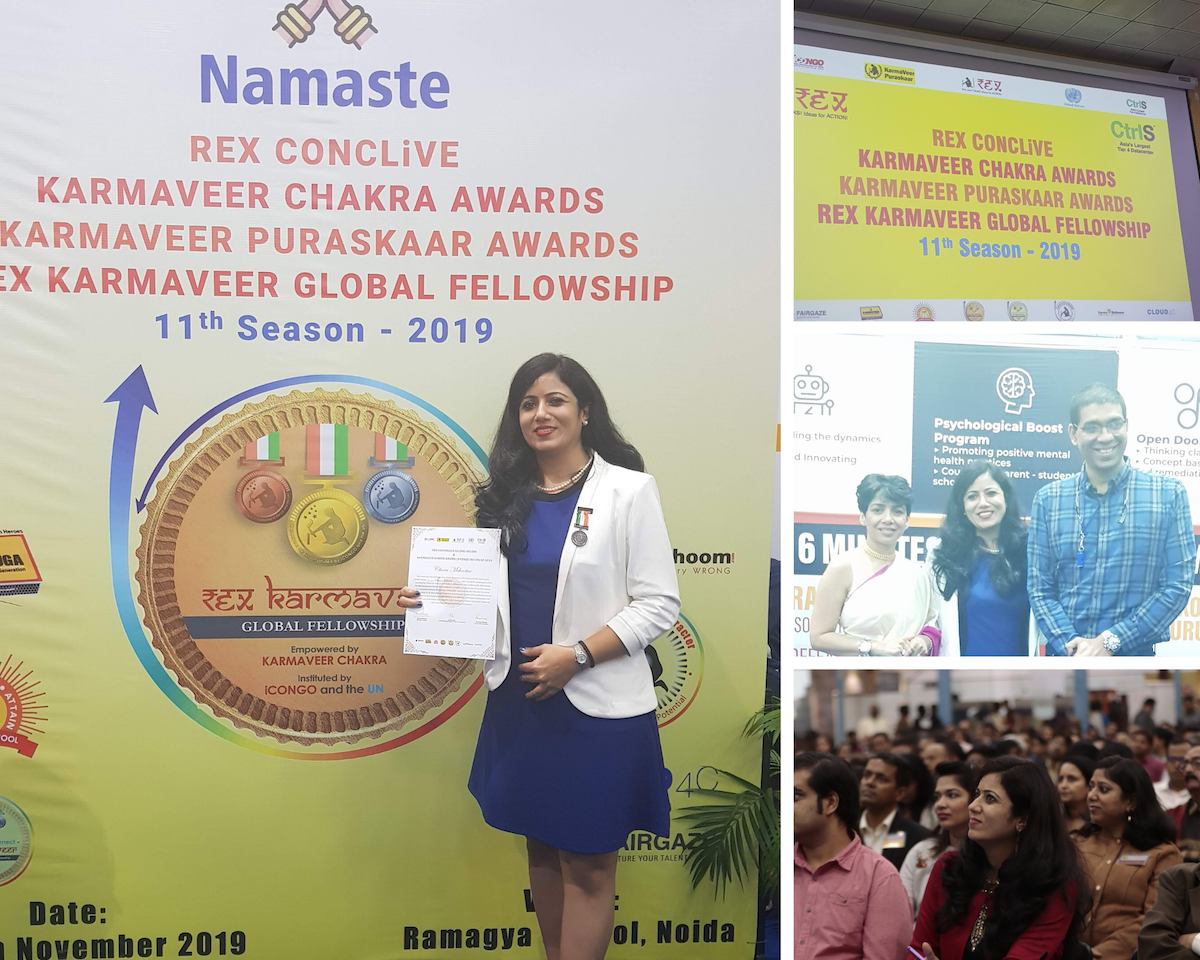 Charu received the fellowship for her online magazine Womenlines.com at the recently concluded"iCONGO's REX Conclave in New Delhi for her commendable work in the field of social service at the annual "iCONGO's  REX Conclave that was held from November 25 to 27 in New Delhi. 
The three-day congregation celebrated inclusivity, egalitarianism and extraordinary in ordinary as REX believes in POWER of ONE and "I Change to Change India, I change to change the World and I change to change everything".
The coveted awards celebrate their belief in "Not just Talks but ideas for Action" to usher in change and mind-shift. The 3-day REX CONCLiVE is a must for all Karmaveer award recipients and REX Karmaveer Global Fellows to attend because the 3 days is where a lot of collective-learning, knowledge-sharing and wisdom-transfer. Thus, the REX CONCLiVE is not just a school, college, institution or university of learning, but a TEMPLE OF LEARNING that celebrates and values LIFE, LEADERSHIP and Leaning2Learn lessons that each fellow and award recipient shares with each other. Here everyone is a learner and teacher and mentor and mentee. In the words of Jeroninio Almeida (founder of REX and Karmaveer mission) in his book series Karma Kurry "I believe that everyone is a hero, a leader, a volunteer, a teacher and a champion of change. All we need to do is acknowledge and understand this and then help others to also understand the same. That's all it takes to be a hero, a leader, a volunteer, a teacher and a champion of change."
The award recipients for this year represented several countries which included Iran, Mexico, France, UK, Romania, Netherlands, Belgium, USA America, Singapore, China, Sri Lanka, Bangladesh, Pakistan and from across the globe and were finalised after a rigorous selection process. These awards seek to celebrate and inspire individual citizen social responsibility, justice and action, and are held every year on the day the Indian Constitutional Pledge was signed.
Commenting on the RGKF, iCongo and REX Karmaveer Global Fellowship mission, founder Jeroninio Almeida said, "Ours is not just an award it's a responsibility for being more and doing more by learning more.  It's a journey and the fellowship is just the beginning of the journey. That's how we designed our awards culture and ethos. That's what makes the REX Karmaveer very DIFFERENT from all other awards. It's not just recognition but the award is a placement of trust on your shoulders to own more Individual Social Responsibility to do more and move up the awards hierarchy and the fellowship is that starting point."
"We congratulate  Charu Mehrotra for possessing the conviction and compassion to stand up, speak out and lead the change with his/her positive attitude! The best part of the fellowship is everyone comes here thinking they are doing little or more than others and then we meet people who are doing more or less than us and we realise that there is no big and small deed, all ideas for action and actions matter as every little big change we create makes the big difference. Thus we all realise the power of ONE by coming Together as One to RIGHT every WRONG and hence experience and share THE JOY OF GIVING," Almeida added.
The aim of the REX KARMAVEER GLOBAL FELLOWSHIP (RKGF) is to recognise people who have the courage of conviction to think differently and walk the path less trodden and to act on alternative/ innovative ideas which may make a difference in our world.
About REX KARMAVEER GLOBAL FELLOWSHIP:
REX KARMAVEER GLOBAL FELLOWSHIP (RKGF) recognises people who have the courage of conviction to think differently and walk the path less trodden and to act on alternative/ innovative ideas which may make a difference in our world. We also believe that every human being has a hero, a leader, a volunteer, a champion of change and a teacher within her or him and only a few people acknowledge and awaken this power within, to help inspire the change.

RKGF is inclusive of people who are making a difference in Technology, Innovation, Entertainment, Media, Design, Performing Arts, Architecture, Engineering, Aviation, Creative Arts, Fine Arts, Sciences, and Humanities. RKGF also comprises of Writers and Authors, Journalists, Activists, Whistle- Blowers, Students, NGO Leaders, CSR Professionals, Investment Bankers, Entrepreneurs, Fundraisers, Humane Business Strategists, Leadership Coaches, Educationists, Citizens from the Armed and Police Forces, Government Leaders and Bureaucrats, Diplomats, Engineers, Consultants and people from several other disciplines and sectors.

RKGF helps life-changing innovators from around the globe to integrate within the REX and Karmaveer community. It helps them share their impactful ideas for action with a million audiences and transform lives through projects and ideas of hope. The idea is to bring together like-minded, socially responsible individuals who have a desire to learn more, be more and do more to make a difference. 
Follow Womenlines on Social Media