Womenlines takes pleasure in sharing yummilicious recipe of sweet potato biscuits in the Healthy recipes for healthy you segment of Womenlines to brighten your weekend!
Recipe credit https://cozypeachkitchen.com/
Sweet potato biscuits are tender, buttery southern style biscuits made extra fluffy and moist with roasted sweet potato. These biscuits are the perfect fall treat and are great with breakfast or as a side!

Cassidy

Founder https://www.cozypeachkitchen.com
Sweet Potato Biscuit
If you've never had or made sweet potato biscuits before, here's what to expect:
These biscuits are flaky and buttery
Moisture from the sweet potato makes these biscuits extra tender
Requires just 10 minutes of active time to make
Just a hint of sweet potato flavor
Can be modified to be vegan and dairy-free
If you're looking for a vegan option without modifications, you might like these vegan buttermilk biscuits. These cheddar drop biscuits are a great option if you want a sweet potato-free biscuit.
What you'll need
Ingredients
Roasted sweet potato: One large sweet potato yields about 1 cup mashed sweet potato. Choose an orange-fleshed Jewel or Garnet sweet potato. This is what I use in most of my sweet potato recipes, like stews, mashed sweet potatoes, and even veggie burgers.
Flour: Use all-purpose flour. White Lily or King Arthur brands are my go-to's for a light and tender biscuit. Half whole wheat flour can be used for a heartier option, but the biscuits won't be as tender.
Baking powder helps the biscuits rise.
Salt is added for flavor. Table salt is my go-to for baking.
Milk: I use whole milk for the most high-fat, tender result, but any kind works
Instructions
Before you begin: Use a knife to poke one large sweet potato with a few holes. Place on a pan and roast in the oven at 400 degrees for 45 minutes to an hour, until soft and tender. It should be leaking syrupy juices.
To a medium mixing bowl, add the all-purpose flour, baking powder and salt. Stir to combine. Add the sliced butter.
Using your hands, a pastry cutter, or a fork, working quickly to cut the butter up into pea-sized pieces.
Pour in the milk and sweet potato puree. Mix with a large wooden spoon (or similar utensil) until just combined. The dough will be shaggy and pulling away from the sides of the mixing bowl.
Turn the dough out on a lightly floured surface, like a baking mat.
Do not knead the dough as you do with bread. Instead, gently press the dough down to about ½ inch thickness. Fold the dough over onto itself 4-5 times, lightly patting down each time.
Cut out biscuit shapes and place them on a parchment paper-lined baking sheet. Bake for 12-15 minutes, until golden and fluffy.
About Me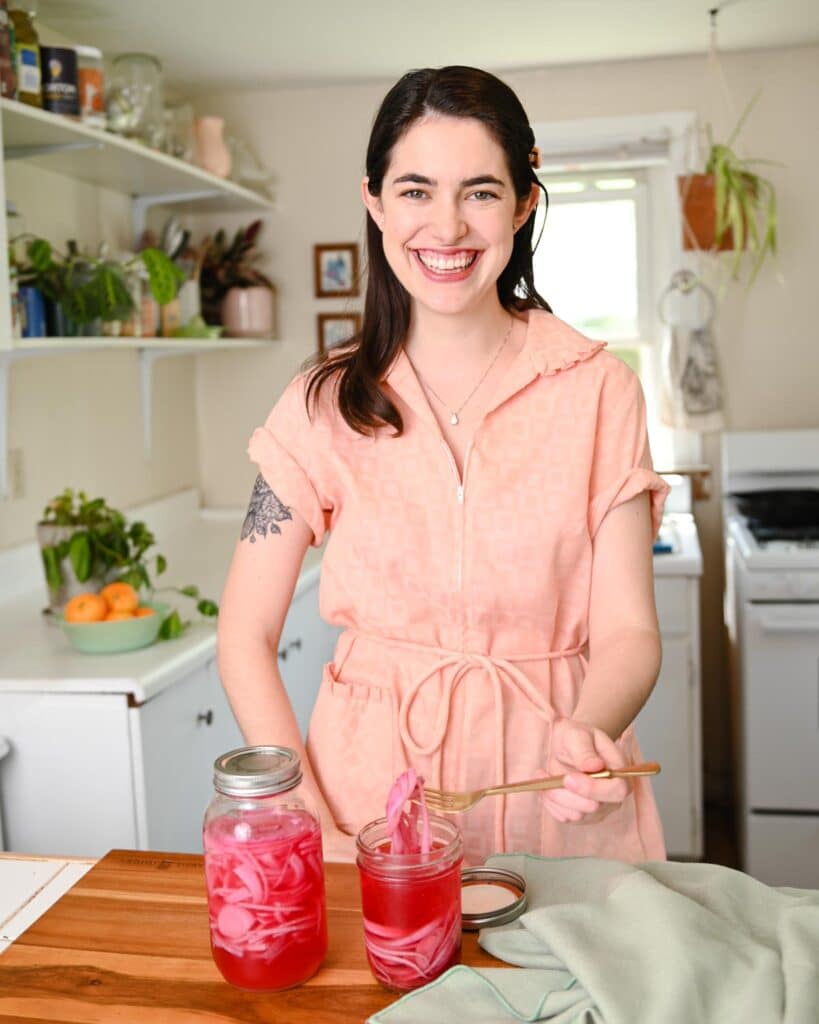 Hi, I'm Cassidy! I'm the recipe developer and registered dietitian (RD) behind Cozy Peach Kitchen. I started Cozy Peach Kitchen as a creative outlet while working as a new RD and it quickly evolved into the vegetarian food & nutrition blog that it is today.
I now work full time at Cozy Peach Kitchen while pursuing my Masters of Science in nutrition. As a dietitian turned food blogger I still use the valuable menu planning, recipe development and nutrition education skills from my last job, but now I get to share them with you!
Follow Womenlines on Social Media