Womenlines takes pleasure to welcome Swapna More, who is a successful serial entrepreneur, a realtor, a restaurateur and an educator from India. Swapna is the Co-founder of Kagaay Technosolv Pvt Ltd and Aghamarshan Hospitality LLP. In her video interview with Womenlines Swapna is sharing about the upcoming real estate property sale by Kagaay from 19th to 21st February.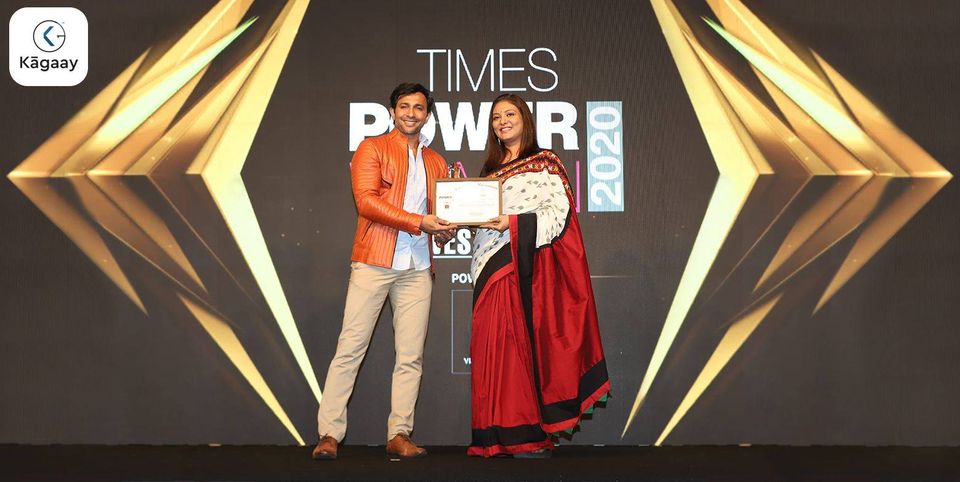 As a woman in the realty business, Swapna defied pressure with elan and steered the businesses to success. 10 Lac Sqft of land developed and marketed across the country, a revolutionary real tech product up her sleeve and a successfully running cafe just add up to her illustrious career as a women entrepreneur. She has been also awarded the highly prestigious award, The Times Power Woman West India Award 2020 by Times Group.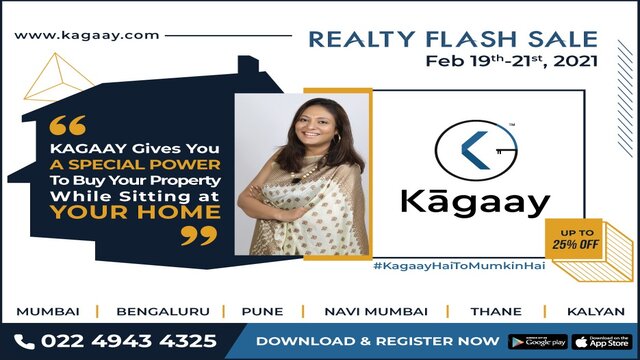 Kagaay
Kagaay is a Gamified Sales -First Platform which is simplifying selling and buying properties in India digitally! Kagaay App which is India's first technology-driven gamified realty sales enablement platform with a proven and confirmed sales conversion providing a key solution to the most defying problems of real estate industry which are confirmed sales and long gestation period.
The app is designed & developed keeping in mind the needs of the realtor as well as the end-user, no human intervention is practised at all levels to enhance transparency, credibility & clear communication either way.
The benefits Kagaay gives to property buyers-
The right price advantage:
All properties onboarded are available at up to 20/25% discount rate, which is pre-negotiated by Kagaay
Accessibility:
The buyer can buy a home at the right price, at the preferred location, with trusted developers, by simply sitting anywhere in the world, with the click of a button.
Trust:
All properties onboarded are verified and validated by Kagaay legal team. The team checks RERA registration, legal titles and other documents.
Transparency:
Kagaay is Artificially Intelligent Machine Learning app which does not allow any human intervention. What you see, you get. Also, payment is done online, making it transparent.
Security:
Money paid for EMD (Earnest Money Deposit) is deposited in third party nodal account which is governed by rules, regulations and guidelines by Reserve Bank of India. It is neither with the developer nor with Kagaay. It is transferred into the account of the developer only after sales agreement and registration.
Full-fledged virtual tour negating the necessity of physical site visit:
Kagaay has drone shot videos, Google Maps link, 2D, 3D, Virtual Reality Walkthroughs, actual pictures of flats, amenities, projects etc as well as information about amenities uploaded on App.
Simple Steps to use Kagaay-
Download the app and upload your property. Sign up for the relevant & happening gamification drive. Kagaay is an ISO 9000: 2015 and a RERA certified company, it is also registered with Start-up India. The app is ready to download for iOS and Android users and has already received a Google Play rating of 4.8!
Unlike other discovery platforms, Kagaay is a Real Estate app with a centralized focus on pulling in sales and aiming for faster asset liquidation. Also, with some internally available advertising options, developers can market their properties too, seamlessly.
Swapna shares "Gamified aspect is helpful in dealing with sluggish sales cycles that plague the real estate market today.  Anything which is sluggish needs motivation, reward, and recognition." She further explains that gamification helps in engaging people meaningfully with interactions that would otherwise be considered bland!
Download the Kagaay app now :
Android – https://bit.ly/2W3smwX
iOS – https://apple.co/3na8MLg
Register at https://kagaay.com and start shopping for your dream home from 19th Feb to 21st Feb!
Contact : (+91) 22 4943 4325
Disclaimer: The views and facts expressed in the article do not represent the views of Womenlines Online Magazine.
Are you looking out for physical health, leadership skills, mindset health and image branding strengthening tools to be the best version of yourself? Subscribe to weekly powerful updates of Womenlines for free. Click https://www.womenlines.com!
Follow Womenlines on Social Media