Womenlines is delighted to share about Anjalika, an IITTI (CANADA) certified professional Image Branding & Lifestyle Consultant, as an Influencer for Image Branding at Womenlines. Yes womenfolk, gear up to learn the tips and tricks to carry yourself with excellence and make excellence your brand. In her sharing for this month, Anjalika is sharing about how to look fabulous at any age-
It was not until I turn older did I realise that as women, we are capable of being beautiful at any age. I love the fact that I am getting older. I embrace every change that comes with well, an ageing self. I bask in the very fact that certain qualities are only attainable after the arrival of a certain decade. I never dwell on or lament on the fact that certain parts of my face or body are never going to be the same again.
In the age of social media, women especially, are often made to feel less than; the many unattainable standards of beauty is rampant, everywhere; the smorgasbord of cosmetic surgeries, fillers, laser treatment advertisements are easily part of our lives. As though that is not enough, we are also slapped with image after image of branded handbags, shoes and clothes, adorning the body of a very blessed individual who looks like she can very well afford all the luxury while it very much seems that she is not even batting an eyelid to earn all that money to be able to afford them. If you ask me, what a stressful decade this has been!
As an Image Branding and Lifestyle Consultant, I often meet with women, who, over time lost their zest for life; especially those nearing the half-decade mark. One thing is for sure, it does not have to be that way. Feeling and looking good is a birthright. It does not have to be complicated or expensive, something that is very much misunderstood.
Having said that, there are a couple of ways to make yourself shine – a decade after decade. Here are my top tips.
* Determine your Style Personality
Once you are in touch with your style personality, it will not take much to feel and look on top of the world. Are you more classically inclined in your choice of clothes, romantic perhaps or maybe even bold? Once you know your style personality, wardrobe shopping will be way easier. You will be able to weed out what is not of interest or what will not look good on you. In a nutshell, someone with the inclination towards classic style will love classic type blazers, white crisp shirts, pencil skirts and on their feet, the classic pumps. Those who lean towards bold will opt for splashy patterns and loud colours, while our romantic counterparts, choose frills, laces and flowy fabric as part of their ensemble. Look within yourself and ask yourself questions like what makes you feel good, what kind of image you want to portray. In doubt, get help from an Image Consultant.
* Wardrobe essentials
There are a couple of essential items that I feel every woman should have in her wardrobe. Just to name a few; (1) white shirt, (2) well-fitted dress; doesn't have to be black – choose a colour that flatters you. (3) long well-fitted trousers (4) well-fitted blazer (5) jeans; usually bootleg or straight cut ones are the most flattering for most shapes (6) white and black basic t-shirts (7) denim jacket (8) hoop earrings (9) diamond or diamante studs (10) a good pair of white sneakers (11) good quality, (does not have to be branded), roomy work bag (12) a classic clutch in black or gold
* Know the current fashion trends
Have a few of current fashion pieces in your wardrobe. Make sure you only pick those that work for you. An example will be wide-legged pants or culottes which is a current hit. Mix and match them with your wardrobe essentials and voila, you are heaps more trendy!
* Accessorize
Your belts, hats, necklaces – accessorizing create a unique look for you. Use this to your benefit. I have always been a great believer of dressing for my body and taste; never copy and always be creative. Put together outfits that screams you.
* Wear trendy shoes
Footwear can singlehandedly change the vibe. You do not have to wear four-inch heels to feel desirable. There are so many choices these days. The ballet pumps, kitten heels, mules, slingbacks – go try around and see which ones make you feel so good, you do not want to take them off!
Finally, the most important thing….
* Not too matchy
Looking too matchy or polished can age a person. Have fun with your clothes and try to mix-and-match them. I will advise a client to pair a jacket with a skirt or pants, not a matching one; like that of a suit. This will give you a more relaxed and chic look.
Bottom line is, have fun with whatever you throw on you.   Adopt a confident stride, if you have not already. With that confident walk, you have already won before you even started.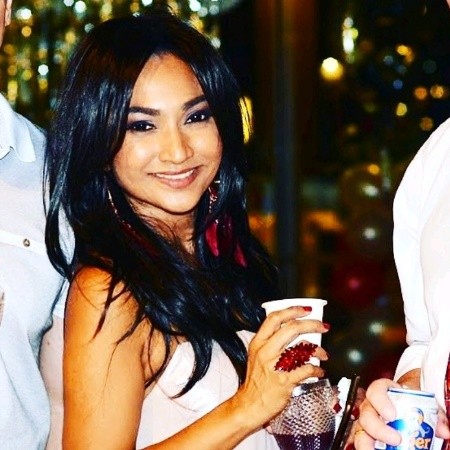 Zu Anjalika Kamis Gunnulfsen is the Editor (Singapore) for Marketing In Asia and certified Image Branding & Lifestyle Consultant. She was also crowned Mrs Singapore Globe 2017. Born in Singapore and blessed to have lived in a couple of other amazing cities in the world, Anjalika is currently expatriating in Kuala Lumpur. Follow her on LinkedIn, Instagram and blog
LinkedIn –https://www.linkedin.com/in/zuanjalika/
https://www.instagram.com/anjalika_mrssingaporeglobe2017/
Follow Womenlines on Social Media