Mastering the art of Closing – 23 Guaranteed Elements to Mastering Conversion Sales Trainings Won't Teach You!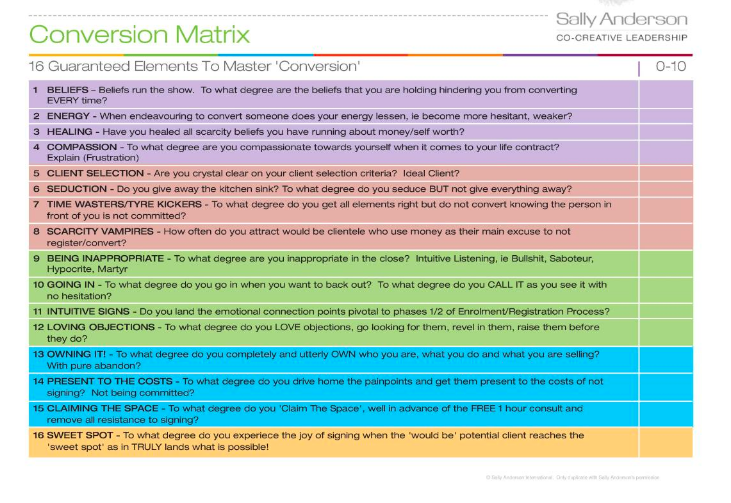 Womenlines takes pleasure to welcome Leadership Coach Sally Anderson from New Zealand as a guest influencer for Leadership at Womenlines panel. Sally has privately coached key influencers internationally: CEO's/executive teams/C-Suite forums/entrepreneurs/celebrities/politicians/millionaires/billionaires over 20 years. This week Sally is sharing incredible tips to boost sales process-
Critical elements that should be mandatory with CLOSING specifically are:-
EMOTIONAL CONNECTION is everything – Every sales exchange is a human to human interaction – SO to become masterful in closing EMOTIONAL CONNECTION is mission-critical
STORYTELLING is crucial and needs to be a part of your sales exchange without fail
OWN your space, respect who you are, have them come up to your level, never go down to their level
NEVER get onto their court, get them onto your court or you will not win the game
You are there to interview them NOT them interviewing you
CLOSING has to do with your relationship with MONEY, so do the work to sort out your beliefs around MONEY! If you have an issue with money on ANY level, SORT IT OUT!
Beliefs run EVERYTHING, what you attract is directly proportional to your beliefs – if you wish to shift what you are attracting SHIFT YOUR BELIEFS
PRESS the bruise, get them present to the costs, you MUST understand their pain points/challenges and elicit these well before the close
Fall in love with OBJECTIONS, always call it BEFORE they do – elevate the conversation otherwise, you are playing on their court – go looking for them
OWN who you are, you have earnt the right to be a TELLER, sometimes when you own it you do not have to enrol you just tell them to SIGN
STOP tolerating saying 'I am not good at closing', get the support ASAP the costs of not being too great
Commitment = Results – where ever the results are being produced is a function of your current commitment…so folks if the results are not being produced in the area you say you are committed, I am here to tell you, you are NOT committed
Your energy has to be as impactful in the close as it is in the enrolment phase if not more
When you want to back out – GO IN, the gold lies in GOING IN – ALWAYS
Be inappropriate, if you own it you will have the prospect have a breakthrough with the bullshit they are running – being inappropriate does not mean being rude, it means you are standing for a possibility beyond their default identity as they know it
Stay the distance – do not sell out – park all future meaning-based projections on why someone has not come back to you – 9 times out of 10, if you are clean in your intent then its worth investing the time to stand for them coming back to you
Do not waste time with people who have their radios off. Spend MORE time with those that have their radios on
Self-deprecation works, framing upfront, use that which you operate over the top of as your trump card, LEAD WITH THIS!
Match what they share with what you share so that the prospect feels like you understand their world – listen to their language, the language will ALWAYS tell you where you need to go in the conversation
We all have unique fingerprints, we are all unique with different lessons to learn, one process does NOT apply to all – so in your journey to master closing get the right support unique to you to shift your own dynamic/s
As human beings we all have a default disempowered identity, to understand your own and how it works is critical – this mechanism hinders you from achieving your potential – take time to understand this aspect of your identity
Do not be STUCK with stayed linear hard skill sales structures, it's a dance, read the intuitive signs, trust these signs and be lead by your powerful intuitive ability – the more you trust it the more you will receive through the power of intuition
STOP SSD, being serious, significant and dramatic, (a function of this disempowered default identity I speak about) – make closing FUN, if you are not having fun in the sales exchange believe you me the prospect will not be having fun so LIGHTEN UP THE ENERGY, 'sales is just a conversation', nothing more nothing less – so dance
Here is the You Tube link to the re-edited presentation in full-
Sally Anderson Sales Presentation
Sally Anderson
CEO/C-Suite Leadership Coach
Sally partner's CEO's/C-Suite Leadership Executives/Key Influencer's Achieve Unprecedented 'Sustainable' RESULTS!
linkedin.com/in/sallyandersonceocoach
Are you looking out for physical health, leadership skills, mindset health and image branding strengthening tools to be the best version of yourself? Subscribe to weekly free powerful updates of an online magazine Womenlines for free. Click https://18.140.181.33!
Follow Womenlines on Social Media