Womenlines as an online media partner for IVenture, presented by APACSMA and conceptualized by Zee TV and Dream Catchers, takes pleasure to share synopsis about the whole event. Do check out the video series of the event shared above–
If a platform comes up for entrepreneurs with all ingredients for learning opportunity, growing one's network with right mindset people and above all getting felicitation from the leaders around, it is definitely going to be a huge success, and IVenture, presented by APACSMA, conceptualized by Zee TV and Dream Catchers and powered by BlockOn in Singapore fell in this category of success story!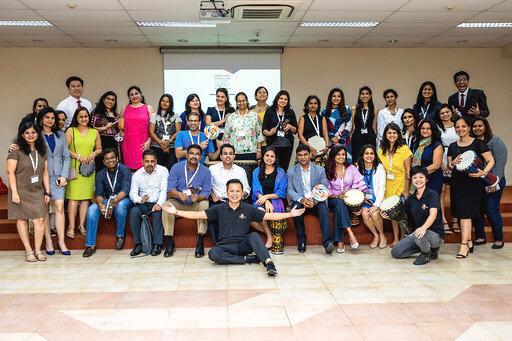 The IVenture platform was created with the aim of giving an opportunity to entrepreneurs in Singapore to connect, learn and grow together as an Entrepreneur community. To fulfil this, for over 2 days organizers curated activities and an exciting line up of speakers, who shared their experience, knowledge and skills with all of the participants. IVenture was organised from 6th June-7th June at S P Jain School of Global Management, Singapore.
Shalima Motial Founder & CEO of Dream Catchers was both the co-producer along with Zee TV & the Emcee for both the days of the workshop. She opened the ceremony by congratulating all the top Entrepreneurs & saying a hearty thanks to all sponsors and media partners. Starting with "Presenting Sponsor "APACSMA- The School for Sales & Marketing. Powered by BlockOn, Associate Sponsor Joyalukas; Knowledge Partners – SP Jain School of Global Management, StartUpO, Singapore Indian Chambers of Commerce & Industry ;F & B Partners -Rocking Rickshaw, Official Media Partners "India Se' Supporting Partners – Founders Junction and Womenlines, Photography and Videography partners- SKG Arts and Picture Perfect.
Tripta Singh Executive Vice President Zee Network invited Dr John Fong- CEO and Head of Campus SP Jain School of Global Management to address the participants
The first session of the day was carried exceptionally well by Dr Bhanu Ranjan, Associate Professor, S P Jain School of Global Management. She spoke about an interesting topic – ' Are you an effective negotiator?' This session was followed by very informative sharing by Mr Kumaran Barathan, CEO of Singapore Indian Chambers of Commerce and Industry who spoke on the topic 'Business Transformation through Digitization'.
.
Mr Parthiban from AEN was the next speaker. Mr Fred from StartUpO spoke on a very interesting topic "Art of Persuasion. Ms Shobha Tsering Bhalla, Founder and Managing director, India Se, was the last speaker for the first day of the event. She shared the unique challenges faced by entrepreneurs in Singapore.
To wrap up the evening on a fun note, there was a musical team activity called the "Drum Circle" which acted as an icing on the cake by involving all participants coming up with a unique musical piece by using various Musical Instruments.
Next day of IVenture saw Entrepreneurs coming up with renewed excitement & energy to soak in more from the speakers of that day. They were also excited about the "Felicitation Ceremony" organized in the evening for them, indeed a proud moment for each of them. Dr Veena Jadhav- Assistant Dean (EMBA) & Assistant Professor (HRM) was the first speaker on the second day of IVenture. Her topic was 'Entrepreneurship beyond boundaries'.
Linda Harjadi from Facebook carried an interesting session on 'How to use Facebook to grow business '. Joining next was Ms Zeenath Kuraisha – CEO, Head of Corporate & Academic Solutions at Asia Pacific Sales & Marketing Academy and Presenting sponsor for IVenture. She inspired the participants with her success story and spoke about 'Business and Sustainability'.
Mr Jagdish Pandya- Founder & Chairman, BlockOn Capital Pte Ltd was the last speaker for the session. He shared all the valuable lessons he learnt throughout his entrepreneurial journey with the participants.
Deputy High Commissioner of India to Singapore Mr.Ninad Deshpande was the Guest of Honour for the event.
IVenture was quite a successful event as it gave a wonderful opportunity to all participants to reflect upon their entrepreneurial journey, to acquire new skills and mindset and also to network with like mindset entrepreneurs. Kudos to Dream Catchers and Zee TV for coming up with such an innovative platform.
Let Excellence be your brand!
Charu Mehrotra
Founder Womenlines
Follow Womenlines on Social Media