"If you do what you love, you'll never work a day in your life."- Marc Anthony
Womenlines entrepreneur of this month is the perfect example of this saying. She is an accomplished theatre, TV and film actor with over 20 years of experience. After starring in popular TV serials on leading national channels in India like Swabhiman, having worked for well-known production companies like BR Chopra, Balaji Telefilms, and UTV Productions, she went on to be part of several theatre productions in the UK. Since 2007, she has been based in Singapore and has produced and directed many plays through her theatre company Wecandoitt. Meet Shalakaa Karnik Ranadive who is also the Singapore representative for Anupam Kher's acting academy Actor Prepares  and read her journey in field of theatre in her own words-
1.Please share with our readers' little bit about yourself.
I started off as an actor in Mumbai, in the 90's. During this time, I acted in many popular Hindi TV serials, including Swabhimaan, Astitva and Zara Hatke. After I got married in 1998, my husband and I moved to the UK, where I acted in films and many theatre productions, which traveled around the UK, Europe, and Canada. My family relocated to Singapore in 2007, and I set up my own theatre production company 9 years ago, called Wecandoit. Under this, I direct and produce my own plays. In addition, I run drama workshops for adults and children.
2. So when did you started this venture and what inspired or motivated you to take a plunge into this venture?
My latest venture in theatre is "Dastak", the first and only Hindi theatre festival in Singapore. We staged Dastak for the first time in 2016, and this year we are staging its second edition. Having worked in theatre in Singapore for over 9 years, I noticed that all the Hindi performances that were staged in the country were overseas productions, and very few were based in Singapore.
My workshops have allowed me to discover a huge talent pool, not just actors, and directors, but also creative writers. I wanted to create a platform for these individuals to showcase their talents, and I wanted audiences to come and enjoy theatre without burning a hole in their pockets. Dastak is not only a festival, it's a journey in theatre. You learn, you enjoy, you share, and you get to project your talents to an unknown audience. It's all about creating a beautiful creative community, from all walks of life.
3. Can you share with us some of the challenges you faced during your initial days?
The challenge for any creative venture is the monetary support. When you have a new idea, it takes time for it to materialize and for others to believe in your vision. I knocked on many doors for funding and support but in vain. Finally, I had to self-fund, and everyone who came on board was pro-bono. I am extremely thankful for all the artists who agreed.
4. So how do you balance your personal and professional life?
The key to balancing your personal and professional life is having a supportive team on both ends. On the personal front, it's your family, your home that acts like a pillar. Professionally, it's the creative team or committee who works round the clock with me. It's a motivated effort on both sides.
5. What would you suggest to other aspiring women who want to venture out on their own?
Don't wait for the right moment because there is never a right moment or the other way to see- it's always the right moment! If you have decided to venture out- start now!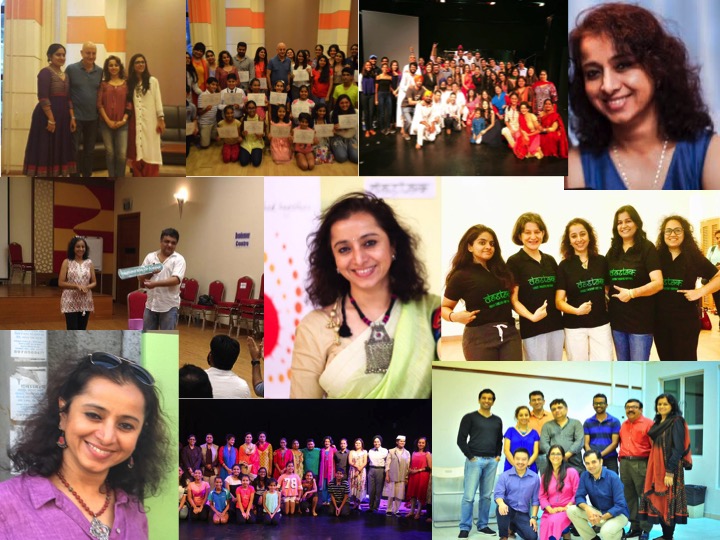 6. Is there any person who has mentored/supported/inspired?
Life is a journey and I have met many people who have inspired me through this journey. I don't read motivational books to get inspired. Every time I meet a new person, rather than scrutinizing their flaws, I only notice their good qualities and that's my take away. I have stopped being judgemental. This helps me to stay Inspired.
7. What do you have in the pipeline for your venture's future development?
Plenty! I would love Dastak to go international. My dream is to make Dastak cross boundaries, and for the theatre community to keep growing!
Dastak 2017 will be staged In November this year in Singapore.
Womenlines wishes best of luck to Shalakaa for her bright future and lots of success for all her ventures!
https://www.facebook.com/dastak10/
Charu Mehrotra
Promoting excellence in women!
Follow Womenlines on Social Media