Womenlines takes pleasure to have Shikha Rinchin Tiku as a guest contributor at Womenlines panel. Rinchin is sharing a very interesting article about the real significance of prayer rituals and items-
My grandmother was thoroughly religious and ritualistic. Her mornings would start at 3:30 AM and she'd visit the temple everyday at 5:00 AM. She had this plastic basket that she's carry with her to the temple. She used to call it her "Mandar Tookir" – "The Temple basket". It'd have some books, vermilion, sandalwood paste, mirror, dhoop, diya, copper vessel, fresh batch of flowers plucked from our garden, and more. I'd often be fascinated by this possession of hers and would often make my own "pooja plate" to carry some of these items when I'd go along with her.
While it piqued my curiosity, I never really understood the real meaning and significance of the items in her basket, or of the offerings that we make to the deities in the temples. So I did the research and it left me awestruck.
While outwardly pooja may appear as a mechanical ritual, it has a great hidden significance. The act of pooja is a symbolic offering of one's thoughts, desires, actions, and possessions to God as a mark of devotion and surrender.
Let's now look at some common items used in pooja and their significance:
The sacred vessel – Poorna Kalash: It stands for mother goddess in general, or goddess Lakshmi in particular. The pot represents the mother earth, the flowers represent the ornamentation, the rice in the bowl represents either the material wealth or the powers of the goddess or both, and the coconut represents the divine consciousness.
Food offered to the diety – Naivedyam: It stands for the gross body(made of food) and worldly possessions. It is ones ignorance(avidya) that the body and the worldly possessions are real possessions, that's offered to God
Flowers – Pushpam: Flowers represent whatever that blossoms in you, be it good or evil, intelligence or delusion, and knowledge or ignorance. By offering them to God, you cleanse yourself. By offering flowers, the worshipper also declares their tenderness of his feelings towards God.
Fruits – Phalam: Phala means results. By offering fruits, we symbolically offer the diety the fruit of our actions and achievements.
Incense – Dhoopam: The smoke which arises from the incense represents our clouded consciousness, delusion and ignorance. By symbolically offering them to God we cleanse our minds and bodies and cultivate discerning wisdom.
Lamp – Deepam: Itrepresents knowledge, wisdom, purity and divinity. By offering it to God we request him to endow us with these divine qualities & save us from the darkness of the mortal world and the negative consequences of our karma.
Tilak – Coloured paste Kumkum(saffron) and turmeric powder represent tamas(darkness) and rajas (worldliness) respectively. By offering them we seek the predominance of sattva (goodness).
Pooja is an opportunity for us to establish direct communication with the higher consciousness. During pooja our soul, the mind and the body wholly participate. We must have great reverence towards the process and perform it with utmost devotion.
I hope this article satiated your curiosity too. Please feel free to share the local folklore about the significance of these in your culture too!
References: Grandmom's stories, The Hindus: An alternate history – Wendy Doniger, The Hindu Traditions – Mark W Muesse , http://www.hinduwisdom.info/, https://www.sanskritimagazine.com/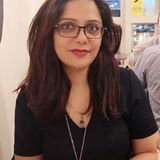 Author Bio: Shikha Rinchin Tiku is a published author, poet, and a learning consultant. Most of her writings explore intense human emotions, introspection, relationships, and spirituality.
Website link: www.shikharinchintiku.com
Facebook link: @rinchintiku
Are you looking out for physical health and mindset health strengthening tools to be the best version of yourself? Subscribe to weekly powerful updates of online magazine https://18.140.181.33 for free. Click SUBSCRIBE.
Follow Womenlines on Social Media